Meet Our Partner Matt & Tamsen
Dating & Relationship experts answering your questions on GirlsAskGuys!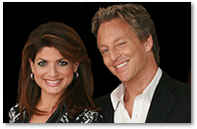 MATT TITUS and TAMSEN FADAL are relationship experts, authors, guest speakers, magazine contributors and the hosts of Lifetime's reality TV show, "Matched in Manhattan". Their expertise spans across all life stages including Singles, Dating, Marriage, Divorcees and more.
Unlike self-proclaimed love gurus, GirlsAskGuys Partner Matt and Tamsen are recognized as top relationship experts by Martha Stewart, Tyra Banks, Montel Williams and countless national and syndicated talk shows including E!, Style Network, the CBS Early Show, MSNBC and ABC News.
Married in 2007, Matt and Tamsen are uniquely qualified to provide recommendations that make real-world relationships work. We like them for their expertise, experience, honesty and dedication to helping us all navigate successful relationships.

How can I get my question answered by Matt & Tamsen?
Matt and Tamsen partners GirlsAskGuys to bring Video Answers. You can redeem Xper points for the opportunity to get your question answered by Matt & Tamsen on video. Simply check the "I want expert advice" box when asking a question and your submission will be reviewed by our team. All questions that meet our guidelines will be forwarded to Matt & Tamsen. They will answer as many as possible on video. If your question is not answered on video, we will refund your Xper points.