So my very first post on here I explained about an unusual text sent to a girl I really hated that my boyfriend sent saying he had something to confess to her. Well this is about the deleted messages I recovered tonight.
He had a plug acc he created sometime back in August or late July of this year (2019). I did not have access to this account. He had it for a few days or maybe a week or so. When he asked one day to text this dude on it. So I did, but i found a text to the girl i hated. No previous messages, just a text "hey, I need to confess something". I felt betrayal that I had to repeat myself twice not to talk to this girl because she had tried to have sex with him. I recently came to discover that I can recover deleted messages. I started to do research and i finally did it after a few days of trying.
There was exactly 179 subjects (or messages) between them at the time (again the account was just made) I started reading from the beginning (8/11/19) he sent the first text. All i can say is that I'm shocked he would do this..
They're names will be scribbled out but blue is my ex and purple is the girl he cheated on me with. (Apologize for small print)
Ex - 🔵
Girl - 👿
1st image: proof that he said he had something to confess
Next 2 images: talking about him getting head and her calling him hot
3rd image: being excited to see eachother / being alone
4th image: calling her
babe
for the 1st time
5th image : begging to FT while calling hin babe/baby/daddy / they face times multiple time through out this conversation
6th image : what I had to say about it to him (trust me there was a lot more)
Last image: what Lily had to say (I scribbled out their usernames just fyi)
The fact of the way this girl talked to him and he didn't do nothing to stop it but encourage it didn't even tell her he had a girlfriend (me)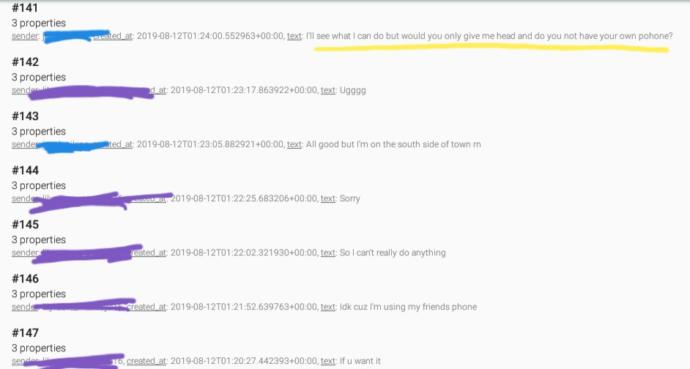 Updates: