Hi Harri I'm 22 year old. Last December I was admitted to hospital for 3 months (I'll spare you all the boring details) basically I went in walking and came out in a wheelchair. Now I was told this may only last a couple months or all my life. I've come on so much more than my physios thought was possible , I can now walk using a frame indoors for short distance. Now my problem is my whole life (with out sounding big headed) I've never had a problem with talking to girls and having relationships. When I left hospital I was very conscious and embarrassed of how I looked. I genuinely thought I'd never find a girl that could look past the chair. But within in a couple of week from When I got out of hospital a girl started talking to me, and she was actually interested in me! She didn't care about the chair at all. she was beautiful , kind and loving. Me and her got very close, I even got very close to her daughter, we carrying on seeing each other for 4 months and I seriously thought that this is who I was going to spend my life with. I know i sound like one of these that says I love you after a week lol but I'm not , but I think that where my head was so all over the place and I thought I'd never find someone and straight away there's this beautiful girl who was interested in me. Anyways the relationship just seemed to have ended one day to the next and I don't really understand still to this day why it ended. Now ever since then my confidence has been so low, I have no confidence. I feel as though girls can't look past the chair and get to know me. Or if they do start talking to me it feels like a sympathy conversation. Also when I'm out with my mates on a night out the amount of weird looks I get. My question is to you girls, is could you look past the wheelchair? And do you think that maybe I'm worrying to much?
here's some pictures of me: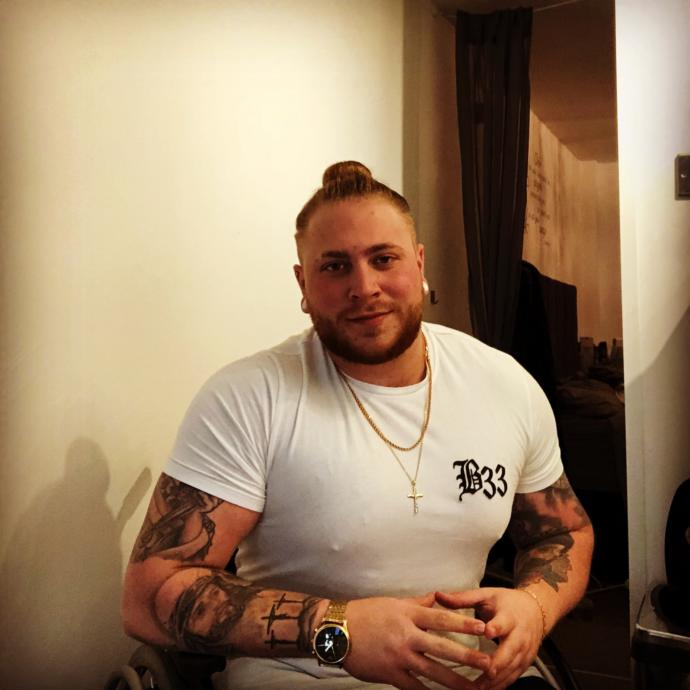 Updates:
---
Most Helpful Girl
Sure, I could look past the chair, you're also making great effort to minimize its use maybe to just where it's needed or at least something like that. Right? That's the way it sounded. Anyway the wheelchair isn't the issue. What it sounds like your issue is, is the lack of self confidence brought on by the sudden breakup of your last romantic relationship. It also counts like you haven't come to closure with the relationships sudden ending. You are looking at the whys and what ifs of the loss of a relationship you honestly felt was going somewhere, then you were hit with an unexplained breakup.

If you were a friend, and if you are on speaking terms with your ex-girlfriend, I'd advise you to talk to her to ask why she thinks the relationship ended. I wouldn't count on this changing her mind, it probably won't so make sure she understands that. Tell her it's just because you're just trying to come to terms with the break up so you can pick up the pieces and go on with your life. If and when you do talk to her make certain that you apologize for anything you said or did to hurt her. Being honest and decent with her is probably going to have her treat you the same. It sounds like only when you can answer your questions that you can pick up and carry on!

You are also a handsome enough guy that you shouldn't allow this to hold you back whether you're on wheels or on your feet!! Now get out there and start wowing them ladies again!!