This one's to the fellas on here who are more experienced... I honestly am not!
Have you had any kind of success with the following method?
I see a lot of this online but I don't really follow up to see how things pan out between the two parties.
So, guys, once and for all, let me in on the secret... does the following method work with the ladies?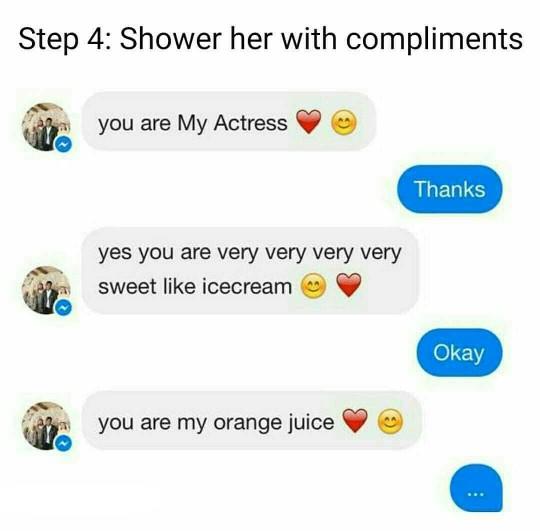 Updates:
---
Most Helpful Girls
Best way to find a wife i f you ask me. I'd marry these guys, men take note.
This really doesn't work... I had few guys sending me messages like that, I'd usually respond politely, but at some point will stop since it automatically lowers my intersets in them...

I think, the best way I met guys online here, was just bit of innocent flirting (or just a nice intersting conversation) on one's post (here it's questions) then you go to private chat and get to know each other. My point is, if you wanna pick up girls here, reply (in a non creepy way) to their comments and such. Develop a conversation.
Most Helpful Guys
Find what works for you and stick with it. Girls are notoriously variable. If you try to adapt to each one, you'll be adapting forever.

Err on the side of gentlemanly behavior. Be honest with your desires, regardless of what you think she wants to hear. Don't be afraid to back off if you're not feeling her personality. You're just as valuable as she is... in my opinion
these steps always work for me

highly effective in my opinion