When's the last time you were flat-out rejected?
How did you handle it?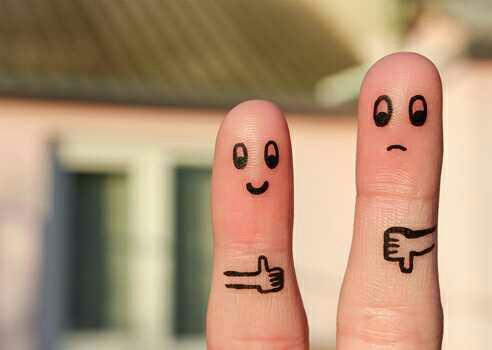 Updates:
---
30th of December 2009 and how did I handle it? Pretty badly on the inside and acted pretty calm and okay on the outside. Hung out the entire New Years Eve in the same group as her, because I had to cancel my own party..

A few weeks ago.
She was sat alone near the bar. I'd been sat on a table at the back reading for the last hour and a couple of times I glanced up at the bar to consider getting another drink, and I caught her staring at me.
I decided to try my luck and when I went to the bar to get a drink I asked if I could get her anything... She laughed in my face raised her voice as high as she could and called me a creepy perve.

So I walked away and got the drink. I think I must have been a bit red in the face because the barmaid looked genuinely sorry for me and told me that 'she' did that a lot... And to be honest I was too embarressed to go and sit down again because it felt like everyone in the place was staring at me so I chugged the drink and left.

OK that's a good question already , I got rejected at so many times I actually can't remember the no. Ok to get over that you need to know why you got rejected already if it's because who you are , or your expectations may be , or may be because your way of thinking whatever the reason after knowing it you will be able to move on and get over it

3 years ago.
Took her out for her birthday. Got her a Nikon camera (she did photography)
Took her to the mountains and let her test out the camera. Took her to dinner dropped her off at home.
Tried to hug her and she shoved me and walked away.
Shit happens. doesn't even bother me.

This was in high school prom. I only talked to this girl for academical purposes but I liked her for a long time. I asked her out, the obvious rejection. It really hurt. It was my first time as well.

Part me said why? Other part of me just wanted to cry out. I went to school the next day. She was a popular girl so as you can expect every single person in my year knew about it. It made it even worse. I could barely face anyone. I stopped giving shit about anyone. My friends supported me and and said "if your not having a date, we are all going single". That made my hopes up. All 10 of us went into prom with no dates. The whole year expected our group to have dates since we are all some kind of leaders. Form captain, sports captain, basketball captain etc. Then a party after wards with a lot of booze solved everything.

I haven't talked to this in years now but I still remember her birthday.

When I wanted to casually talk to a girl who I got to know in a sports course, then I casually talked to her in the canteen at college, then a year later we met again at a party and i tried talking to her even though i was drunk (for the same reason) and weeks after that she was like "who are you" and reacted kinda overwhelmed when I approached her

Just last week. I told her not to contact me again, got drunk, and played video games while listening to my break-up mix.

I honestly can't recall. Maybe because it was a long time ago or maybe because I wouldn't hang on to such an incident anyway. Shit happens.

Today's morning, i asked a girl about the location of a meeting room and she said "I'm not interested" bitch i wasn't flirting. I was rejected without trying to flirt with the girl.

Anyway i went for a Burger King to calm my nerves with a double wapper.

Hasn´t happened in many years. I think last time was 10 years ago and I took it pretty well. It was a minor crush and she didn´t feel the same way. Felt disappointed for a day, but quickly bounced back :)

Last year, but not with words but with actions

Literally every single time I've approached someone, so a while ago now. At least a few months since I last asked someone out. I just cut my self-esteem away, made myself emotionally vacant and now I'm waiting to die.

Probably a few weeks ago. It was online, and I was only after sex, so it was okay. I just had a black mood for a while.

I have read through your questions and becomes across that your hurt responds to a painful break in a relationship

Not too long ago, but it's something I'm used to. Not in a sad way, and not that I fall in love all the time. I just like to be honest about how I feel from the start, so when I'm sure about my interest, I usually say that I'm interested and would like to explore our relationship futher. This is because im not afraid of rejection. I just want to know or move on. No time wasted.

Last night. Tinder date backed out. Oh well, I just moved on and kept looking.

Does by a stranger count? Then last week.

Never happened because I never bothered initiating.

I don't know when the past time was... but most of the time I just laugh rejection off. Who cares?

It's been a really long time- 2000? Anyway, I've never been too bothered by that, even when I was a teenager.

When I was in 8th grade
I almost got rejected by my parents as their son for failing all the exams
Then when I was in 10th grade I was rejected by my crush
When I finished 12th grade, I got rejected for my college application for which I had to spend 12 years

What I learnt from all this is that I should always be in the position of rejecting someone...(position of power/authority) and never have to kneel in front of anyone for anything

About a few days ago, it's not really much to be honest. Just asked if she wanted to have a coffee and hit the arcades, she said no. Win some, lose some.

5 month's and a lot of gaming and giving myself time :P my freinds also helped a lot

I find it interesting that there are 3 times as many guy public postings on here.

Over twennty years ago. It was rough.

I was ghosted after talking to this one girl for a bit last week. It felt awful because it was Valentine's day. Long story short I went running out in the cold San Francisco weather that night to shake the depression and caught the flu.

Do you count the rejection of self?

If so, it happens often. when trying to compel to believe or strive for something

A week ago. I was in a relationship with a girl. I asked her to meet and she said no in a rude manner like it's all over between us.
Its not so easy to come out of the world that we've created ☺️
My track record for approaching people with that kind of intent is abysmal. I've asked out one person in my entire life.

I don't know if it counts, but during a high school dance, I asked this guy to dance with me. He said, "sure, let me put my drink down", then promptly beelined out of the room, and never came back.

My friend in high school told me to ask her friend out and like an idiot I did little did I know he was in a relationship and he told me no. He winded up marrying the girl and they have been together since 1999 since we were freshmen in high school. So I don't feel so bad lol he wasn't even attractive so I don't care to be honest. I married an ex football player so I did well lol

My first date ever went pretty bad. I wasn't in to the guy at all. When I got home I was so afraid that he would ask me out again because I didn't want to hurt his feelings. Ten minutes of being at home and I get a text from him saying "I'm really sorry but I'm not ready for a relationship. I'm very happy with where I am and I don't see you as a potential girlfriend." BEST TEXT EVER. I laughed so hard at that text because I would never want to be in a relationship with him... He rejected me as a potential girlfriend ❤️ love it

A few months back. But the one that really stuck to me was back in high school. This guy found out through his bestfriend that I had a crush on him, he then sends me a text on facebook saying he knows everything and kindly asks me if I want a chair and a rope.
Yep he did.

My friend who I happened to like a little asked me out and I said "of course ☺️" and then he was like "get pranked" and that was one of my lowest lows as of late. I cried for like thirty minutes but then realized he sucks balls and isn't worth a single one of my tears. He was barely sorry he hurt me. What a chump :/

I was 22 and I handled it really well, it even surprised the guy, like he was expecting me to be all sad and depressed or something. I only did it because I was curious if the rumors were true and was going by how he was acting and compared how he treated me and how he treated other girls. So I just asked him and he said no and I was like oh okay and moved on.

Two weeks ago and week before that! I was rejected by two people in less than ten days. The one that was three weeks ago was someone from tinder and I didn't really know so I didn't really care but more hurt in the sense that they rejected me and the other one was a guy I liked because I slept with him I got over him in a week. I get over rejection within a week or less! I've been rejected by everyone I've ever liked so I have learned to deal with it within a week. Last week I wasn't rejected by a different guy I like in fact the person to not reject me so I feel weird about it because I've never had any other I've like actually like me back. Which scares me that I'd fuck it up 🙈

December 2016 , guy I found mildly attractive was tweeting about wanting a girlfriend so I took that chance and messaged him saying I'd like to get to know him... I never got a reply and I was in college @ the time and I'm pretty sure he told his friends about it and they laughed. His loss

When I 1st started dating after a failed long distance relationship a year ago. I took the rejection really well, wished the guy good luck and moved on. I'll admit that I was hurt at 1st, but I realized it feels a lot better to be rejected straight out then have people play games w/your feelings.

I just moved on, he was rather passive about it so I was like, alright I'll take my amazing self elsewhere.

I only shoot my shot if I'm drunk, and I am closeted chubby chaser.
I asked this guy for a kiss and he just said no and my drunk ego didn't give a damn, but then, after I was sobered up I was so embarrassed!
I'm a really nice out going person but that still kills me a little smh


I've never been rudely rejected. Only been rejected once, when I asked a guy I had seen and spoken to several times for his number. He had a girlfriend. At least that's what he said hahaha.

All the time. Just move on and keep your head up. There's plenty of people and opportunities out there.

Weirdly enough, I've never asked someone out. Like, ever. So I've not been rejected in that case, but in a different case, other than relationships- it's hard to explain.

3 months ago. I'm used to getting rejected, especially indirectly, so i just accept it and tell myself that it was expected.

Last week, was painful but you need to leave to move on

I wasn't rejected flat out but I got tired of his mind games. I lost interest...

Well i liked a guy and yeah i am one of those girls who loves in the shadows and no body cares for them. And finally i got the guts to purpose him, not in the public, a lake near my house. He said are u kidding me, me and would be a boyfriend of a girl like you hah..! Slim chances babe.
I was hurt and he left instantly and then i was like frozen and stayed to the lake some more time. I think it really affected me hard because i became antisocial and didn't go anywhere after that. I dont know how i coped with it but yeah now i am better. I think it kinda take its time.

Hmmm I don't know if this counts as flat out: I was talking to this guy I liked after school and after 4 months of liking him I told him and he said "sick" which apparently means he didn't like me back lol. So there's that.
Or that time 2 years ago when I told a different guy I liked him and asked if he felt the same way. He said no.
Or that other time...
@txdiie_

It was a few weeks ago. I wanted to be friends with my ex again but he refused and thought I was being pushy and "wanted too much". I felt hurt and wrote about it on FB.

The last time I was interested in a guy was 3 years ago. I told him how I felt and he said he felt the same. Then flipped on his feelings, told me he wasn't looking for a relationship and ended up in I don't know how many right after that. So yeah.

Years ago. I felt horrible about it for maybe a day, then I was glad that he told me the truth so I could move on instead of wondering and pondering for weeks and then give up.

It happened about three weeks ago. I went home and played skyrim like any other day. I am used to being rejected

I haven't been single for over 3 years so I guess it was before then.

Actually it was the day before yesterday. My friend was snapping his friend after our one night stand and the friend asked the guy I was with if he wanted me to come over. He said no. I proceeded to tell him I didn't want him to come over either because I really didn't enjoy the night in the slightest. So I handled it pretty well in terms of him not wanting to see me again

Almost everyday by my own so called boyfriend'
Click "Show More" for your mentions
Select as Most Helpful Opinion?
You cannot undo this action. The opinion owner is going to be notified and earn 7 XPER points.