Mine Are:
1. Alucard-Hellsing Ultimate
2. Sawa-Kite
3. Motoko Kusanagi-Ghost in the shell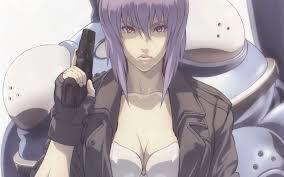 4. San-Princess Mononoke
5. Seras Victoria -Hellsing Ultimate
6. D- Vampire Hunter D
7. Guts-Berserk
8. Kenshiro-Fists of the North Star
9. Goku-DBZ
10. Jubei-Ninja scroll
there's a lot more, but those are my top ones <3
Updates:
---
Most Helpful Girl
Most Helpful Guy
1-5: Guts - Berserk

He may not have some of the ridiculous powers other anime characters often get (coming back from death or near death all the time is a common one) but is still unbelievably badass. The 100 soldiers scene and severing his own arm, for instance.

Not to mention he actually has a story and personality. It would have been easy to turn him into a dumb chunk of meat, but he's surprisingly well-developed as a character.