#1 List Superheroine Name:
RaeWild
#2 List Birthplace
:
WildWorld, MS, USA
#3 List Hairstyle
:
Extra Long Braided Ponytail
#4 List Outfit
:
Black/pink jumpsuit & knee high boots
#5 List Vehicle
:
The Pink WildCycle
#6 List Up to 5 Powers
:
Ponytail acts as a whip
Beautiful white smile that will blond you
Heals others with kiss on forehead
Seductive/Manipulative Skills if stare at cleavage
Parkour/Kung Fu Combat Skills
#7 List How I became a Hero:
Heartbroken after being played by Polygamous Jerkster & Don Luigi. Given a new heart, a wild one that belonged to a vengeful widow
#8 List Purpose in Saving the World
Ironically uses her Seductive/Manipulative skills to save the brokenhearted nonvirgins and naive virgins from thirsty thots/players
#9 List Slogan
:
GET READY 4 ATTACK OF THE WILD!
ITS BOUT TO BE A BOOBY TRAP!
#10 List Relationship Status:
Future wife to Deezy-Kinesis;
Ex girlfriend of the Polygamous Jerkster;
Ex Potential girlfriend of mobster Don Luigi
#11 List Entrance Songs:
Wild Thing by the Troggs
Born to be Wild by Steppenwolf
Wild Thoughts by DJ Khaled
Wild One by Flo Rida
#12 List Weaknesses:
Supercute Guys and Past crushes
BONUS- List Pics similar to your heroes look: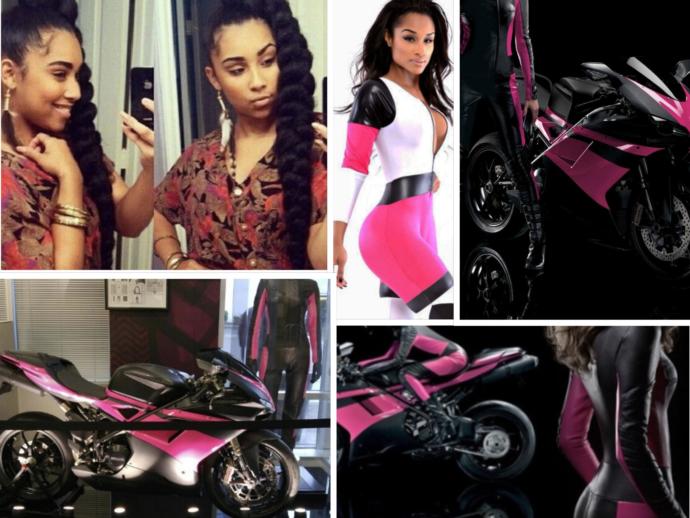 #JoinTheGaGLeague (a play on Justice League) #FeelFreeToList #TwelveQuestionSurvey @HotScorpio3 @just_tired @ScottSummers Hope you guys enjoy this :D
Updates:
Then again, I may change my name to
#RaeOfLight
instead of #RaeWild and then my entrance songs will be UPRISING by Muse, I WANT TO KNOW WHAT LOVE IS by Foreigner, FLASHING LIGHTS by Kanye West, RAY OF LIGHT by Madonna, LIGHTS by Ellie Goulding, ELEMENT by Kendrick Lamar, WICKED GAME by Ursine Vulpine etc.
P. S. my suit is bulletproof and i'll only give MHO to people who followed the rules dammit 😒
THANks to all my
#GAGSuperheroes
for joining in and being so creative :) i'll try to choose MHO soon
---
Most Helpful Guys
Name: Quantum Enigma

Birthplace: Unknown

Hairstyle: afro

Outfit: a flying bulletproof mechanical exo-skeleton armed with a sword

Vehicle: a motorcycle because why not

Superpowers:
1. Vast control over the four fundamental forces of the universe (gravity, electromagnetic, strong nuclear and weak nuclear.
2. Time control (travel, reverse, fast forward, slow, stop)
3. Vast mental powers (intelligence, mind control, telepathy, and blocking mental control/ mind reading)
4. Being one with the universe (having the universes mapped onto myself, having the universe's and my life be one)
5. Lightning powers (because why not)

(you said pick 5 powers but didn't specify how creative or powerful they had to be. So I picked the five that seemed most powerful and beneficial to me)

How I became a superhero:
Lab experiment gone horribly wrong

Reasons for saving the world:
Bringing universal peace, ending wars, helping the poor, stoping senseless killing and putting an end to criminal activities and organizations

Slogans: (this is a hard one and these may sound lame)
Time to be quantum-fied
This will be a shocking experience for you
I'm in your head

Relationship status:
Single, I'd be more of a lone wolf type. Though maybe a few marriages in different eras

Entrance Songs:
Center of the Universe by Kamelot
Advent One Winged Angel
A metal version of Somnus Lacrima (composed by Yoko Shimomura)
Proponents of Sentience (I, II, and III) by Allegaeon
Gray Matter Mechanics - Appassionata Ex Machinea by Allegaeon

List of weaknesses: (This is hard since I tried to take that into account)
Magic
The Supernatural

Pics:
There's nothing that can accurately represent what's in my head
Most Helpful Girls
Name: EXTRA T H I C C

Birthplace: Portland

Hairstyle: Wavy long hair

Outfit: Black latex bodysuit & black converse

Vehicle: The Electric blue Thiccylcle

5 powers: can smash the floor with thicc thighs, licks people to heal them, screeches to make people go deaf, can use siren voice to make people fall under control, parkour, badass fighting skillz

Origin story: I was insane, unstable, I was taken to a mental hospital. It was years, even months in that hell hole... before I got that beautiful golden opportunity. I knew they'd slip up, they always do, it was a day like any other. I was told to go to bed, my nurse came in and sat my food down before she left... she hasn't noticed that she gave me a metal spoon. I took that golden opportunity and took the spoon, knocking on the door to call the nurse in. She opened it and I drove the spoon in her eyes, I dug that spoon so deep into her eye socket that it apparently hit her brain, she fell to the ground... dead. I killed everyone I saw, I didn't give one fuck anymore. And here I am now, still on the run from the cops.
#1 Superheroine Name:
Glitch
#2 Birthplace:
Unknown, USA
#3 Hairstyle:
Straight long blonde hair
#4 Outfit:
Black leather jacket, black crop top, short jeans pants, smokey eye makeup, hip hop cap worn backwards, black high heels or black sneakers
#5 List Vehicle:
Fast black Motorbike called 'Cody'
#6 List Up Powers:
-Singing high notes to shatter glass
-Reviving people's conscience and emotions with my gaze and singing voice
-Parkour skills
-Krav Maga and kickboxing combat skills
-Being underestimated
-Always level-headed and high self control
-Not giving in to pain or fear
-Reading and assessing people
-detail-oriented and observant
-Immune to romantic love, always a professional and a lone warrior
-Never taking sides in banal conflicts, not stirring up conflicts
-No known ties to anyone
-Incorruptible
-strong will, no self-doubt, keeping secrets
#7 How I became a Hero:
Growing up very anonymously, realizing my powers, following my inner call, traveling all over the country and honing my skills, not letting self-doubt get in the way of my pursuit, decided to become a superhero in spite of my lack of actual powers. Never mentions the past.
#8 Purpose in Saving the World:
Help people get back their sense of self, fight all sorts of crimes, supporting and protecting good causes and charities, help families get back together, protecting and saving the weak
#9 Slogan:
Shout out to the the mavericks, misfits and underdogs.
#10 Relationship Status:
Ignored and ridiculed by guys growing up. Never been in love, presumably never going to be.
#11 Entrance Songs:
Confident - Demi Lovato
Legendary - Welshly Arms
Team - Lorde
Outside - Ellie Goulding
New rules - Dua Lipa
No - Megan Trainor
Me myself and I - Bebe Rexha
You don't know me - Raye
Hot2touch - Alex Aiono
Life is a highway - Rascal Flatts
#12 Weaknesses:
Handsome male faces
Southern accent
Movies, music, cats and dogs
Triggered by mentioning of the past