I know there's many reasons for producing art. Some do it for beauty, meaning, expression, or simply for the craft. But Modern art.. eh I just don't understand why people are willing make it and for others to pay millions of dollars for this kind of art. I can see someone paying like $50 for a painting to hang on their wall, but MILLIONS? Especially for the art below.
Now, I know some of you will say in defense that "It's not about whether or not a child could do it, but that it was created. You could've done it, but you didn't." or "It's original and breaks from the usual art"
But as an artist, I find it insulting to see simple and "original" pieces, such as those below, displayed in museums. The pieces mock the 15 years of hard effort I put into improving my artistic abilities. What's the point of spending so much time into drawing and going to art school if someone with no skills whatsoever can bullshit their art into a museum? Please explain to me why this is so.
"Royal Red and Blue"
$75.1 million
Fountain by Marcel Duchamp
$1,762,500
My Bed by Tracey Emins
$3.77 million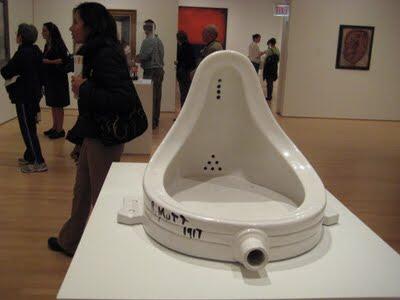 Updates:
---
Most Helpful Guy
This type of art leaves more open to interpretation and imagination than traditional art forms do. If you have the imagination to utilize that open-endedness and give it your own meaning, then you might like it. If you lack that level of imagination, then you might find it frustrating instead. However you don't have to like it to appreciate it. That's why art appreciation is taught in schools — to help people understand what they might not be able to imagine on their own. They're interesting classes. Definitely broadened my own views, at least. Have you tried enrolling in one before? It's almost impossible to finish a course without discovering at least a couple of pieces that tickle your fancy. You might surprise yourself!