any East Asian or American Indian admixtures?
There were a few rumors stating that Björk may have an admixture of Inuit (Indigenous people of Greenland, Alaska, and Canada) without even knowing it, as the reason of her having the stereotypical East Asian look. Most other people say she's a 100% European.
(Pictures of famous Icelandic singer, Björk) -
(Pictures of local Icelandic people) -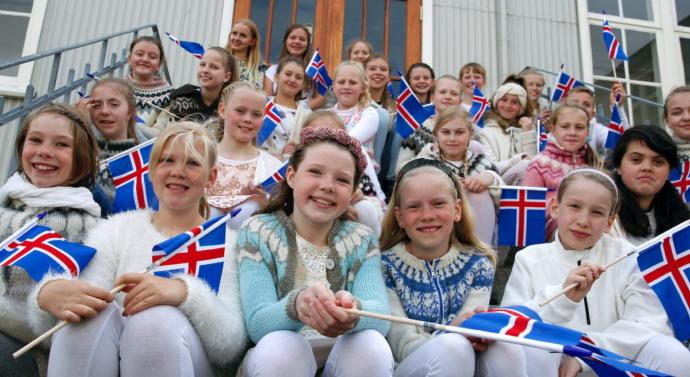 Updates:
---
Most Helpful Girl
coming from an Asian family, she looks caucasian as hell. just because her eyes are hooded does NOT mean she has any Asian in her. i'm white passing and my eyes hood heavier than hers, if that tells you anything. but her complexioun, bone structure, hair type and color, lips and freckles all point to Asian
Most Helpful Guy
The very first matter that makes my mind busy reading your question is that [Why all this even matters]. I never understood the obsession over race and ethnicity among people. She is 100 % European or not; Who cares? those who does, Why? Isn't there any more important and valuable subjects to focus on for them?

Anyways; genetics are very complex. She could have other mixtures but not necessarily included in her past generation in order to be recognized easily. We can take traits and genes from several generations ago. Our function doesn't necessarily come from parents or the family tree of nearby era. This is a factor that many people miss out. So maybe somewhere in her family tree decades of decades ago she might have a mixture.

I still can't see why all this even matters to even be [rumored] about. Where she is born? Where her heart is? What is her nationality on paper? If all of this leads to Iceland. Then she belongs to Iceland and that's where she is from and this is the country she represents. It's just that simple. Besides; we are all mixed one way or another. No one is hundred percent one thing. All it takes is the courage to take one DNA test to open up the mixture history of everyone including those who believe they are so pure.

Additionally; she does not necessarily look East Asian. Somehow yea but not entirely. The interesting fact is Finnish people can look Asian. Please look it up. Many Finnish people can have eyes similar to Asians. Not just that i studied about it but i've met my girlfriend's best friend who is entirely Finnish but has a face that gives you an Asian vibe. So this could be the case with Iceland too. Who knows.

You also picked questionable images to represent [local Icelandic people] because they are look varied and none of them are entirely identical. We have red hairs; blondes and black hairs as well as variable skin tones.