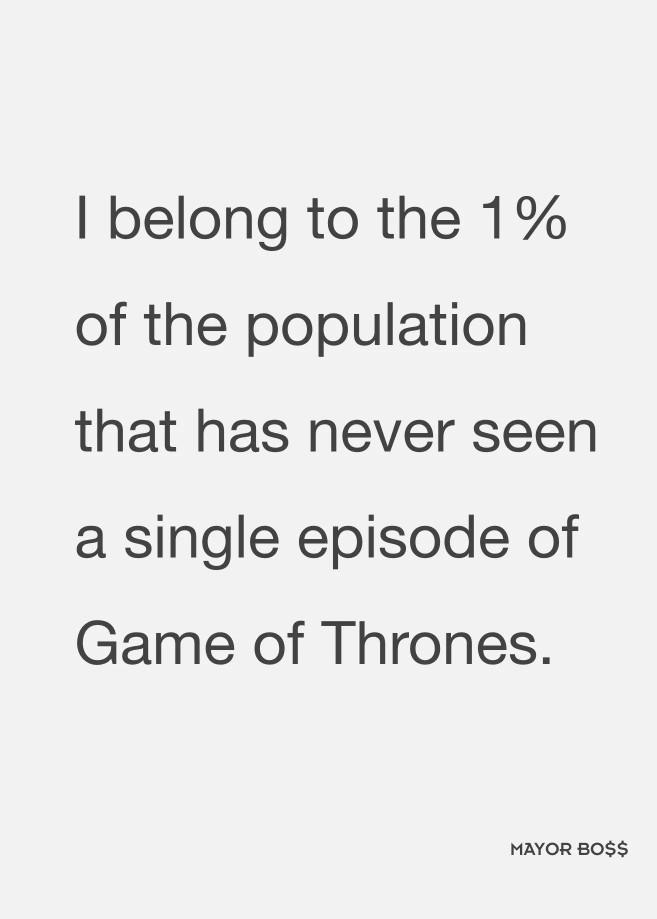 Select age and gender to cast your vote:
Updates:
---
Most Helpful Guys
I was for a while. Dragons and sorcery and all that... couldn't think of something more opposite to what I'm looking for. I've never been into fantasy, any of that Dungeons & Dragons vibe shit... so I start hearing about dragons and imps and all this, and I'm like "FUCK THAT NERDY SHIT, not for me." I have some friends a little more inclined towards that stuff, and they loved it from the get-go, further cementing my prejudice. But I finally watched one with them, one of the ones with a big battle scene, and one thing I DO love is graphic violence lmao, and this show had it in spades, people getting disemboweled and beheaded and shit... that was admittedly awesome. So I finally gave it a shot, and I'm dead to rights: probably the best show of all time to date, at least in the drama genre. I'm actually rewatching the whole thing, for the first time, and it's even better the second time around, because I'm past the visuals of big battles and beautiful landscapes and naked chicks, haha, there's so much to the storyline and the politics of this fictional world it takes place in. So honestly, I'd recommend anyone to give it a shot, especially now that it's wrapping up. I was a non-believer once too, haha, and on paper, I'm still surprised I like it, but it's undeniably phenomenal. I hate reading with the fire of a thousand suns, lmao, but I'm even inclined to check the books out, it's that good.

I was a nonbeliever too... just go ahead and drink the Kool-Aid already, don't fight it😝
Yes. I've never seen an episode.
I've seen a couple of snippets of scenes via youtube.
There were talking about a shocking episode in the news a few years back about the king letting his daughter get burned at the stake for some reason and I youtubed it to see what all the fuss was about.

I've never seen an episode of Sex and the City and I've never seen an episode of Breaking Bad or The Sopranos. (Nor Lost)

Unless I check out the first or second episode of a show and get hooked than I usually will never take the time to get into a show after the fact.

I also reject the 1% premise. That isn't accurate.
Most Helpful Girl
I saw the first few episodes. I don't get the hype tbh.