I am looking for some boots to wear, and I was wondering if you could tell me which you prefer the most.

Keep in mind that I wear jeans...

For 1-5 list whether you think they are Ugly, Not that great, Okay, Snazzy, or Hott in the comments. And answer the poll if you'd like.

Here is the list:

1



2


3


4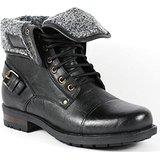 5


Select a gender to cast your vote:


Guys can not vote on this poll
Updates:
---
Most Helpful Girl
I absolutely love 1, 3, and 5. Number 2 is a no unless you really like showing off how skinny your ankles are. But I feel like the shorter boots would be easier to wear with jeans since they're low cut, plus they look a bit more rugged, a bit more rustic- giving a good manly vibe without being too in your face.
If you dress these boots right, you will be very trendy and fashion forward. A guy who wears more than Jordans and Converse is very refreshing and will come off as more attractive since he would seem more fashionable.
Also: what type of jeans do you wear/would you wear with these?