I personally have always loved it. I think it looks so pretty, and when I was younger I used to want a perm to get it. Maybe it's because I have straight hair, and I've always thought straight hair is pretty boring. I am happy to see more women with textured hair are going "natural" and opting out from using weave or straighteners, thought it's still rare. That's not to say they shouldn't have the choice, but I really like seeing this hair too.

Do you like it?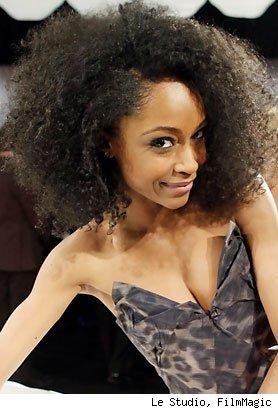 ANTM Yaya DaCosta

https://16scandles.files.wordpress.com/2011/10/yaya4.jpg
I think she's beautiful regardless.


Here she is with straightened hair.


Yes! I LOVE it! (the same or more than straight or wavy hair, all BEAUTIFUL!)

I like it, but I think straightened or wavy hair looks better.
Select a gender to cast your vote:
Updates:
---
Most Helpful Guy
I like it like the 1st pic a LOT. Natural is better down. I've never liked when girls wear afro hair up. Ponytail and down hairstyles = way sexy. High up and rows = not for me.
Most Helpful Girl