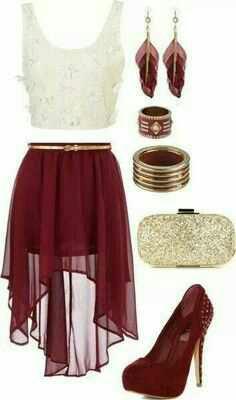 59%(37)59%(58)

Vote

60%(21)

41%(26)41%(40)

Vote

40%(14)
Select a gender to cast your vote:
Updates:
---
Most Helpful Guy
The second outfit is cuter! It has the bright and pretty floral theme going on, and the platform heels are cute.

The first one is more elegant than cute, given its more sombre tone and high heels.
Most Helpful Girl
The first one is classiest. Don't let the guy's votes fool you. Any easy access with a short skirt will win them over. Personally, I think burgundy, gold, and white are beautiful when combined and helloooo, it goes with the season 😌 But I'd throw in some burgundy high socks with three white stripes at the top.