Comfy and casual girl next door or stylish, feminine and polished?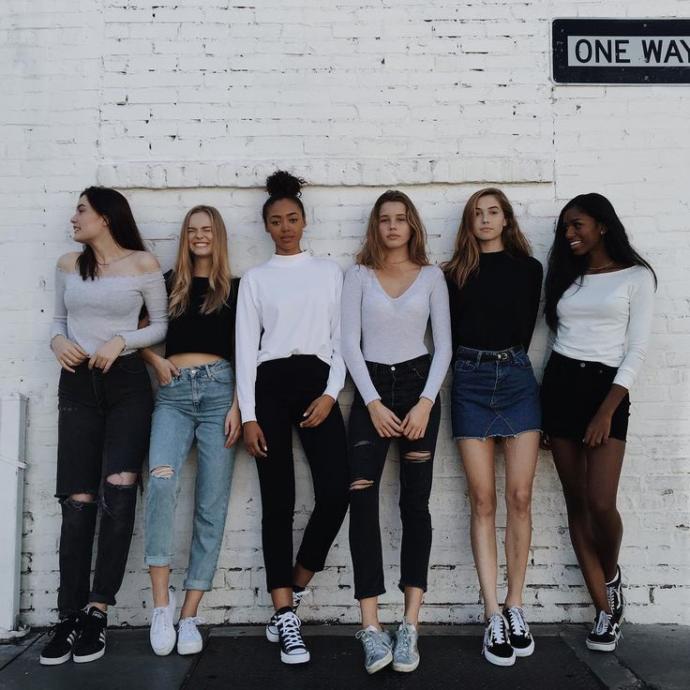 Updates:
---
Most Helpful Guy
I'm assuming I have to go ENTIRELY on clothing and style…
So…

First pic: none, they all have either 1 or 0 clothing articles that have potential, but none of them have an outfit that seems whole, it's in all cases a mix between rough and mild, trashy and tidy. It's confusing because it's not a wild detail on a tidy whole, it's not a pretty fringe on a trashy whole, it's just 50/50.

Second pic: perhaps. I'm not the finest fella myself, I'm pretty much always casual, so we'd probably look weird standing beside each other, but it looks nice and it suits her, so sure if she can live with us not looking on par.

Third pic: no thanks, too vintage/hipster-ish for me, seems like trying to be something they're not. It might suit you, but it seems like a mere mix-match between whatever you found at the thrift store.

Fourth pic: well put together, except for the hat. Very delicate – wouldn't look good beside me, but as with the second pic, sure, if they're okay with it.

Fifth pic: it hits the nail on the head in the style it's trying to achieve, although it's not my type of person. They would give the impression that they are the world's most polite and lovable person, which I'm certainly not. I'd date you, but everyone would think I paid you to stand next to my sloppy self.

I like casual and comfy, I like complete outfits that aren't a match between two sides of a spectrum. I like when there's a symbiosis between two opposites and a certain contrast is met, but when it's the shirt of a librarian with the pants of a punk-rocker, then I don't know what you're trying to tell me with your clothes, you come off as not knowing what you want to say, if if you don't know what to say, I have nothing to respond to.