useful or dont like them...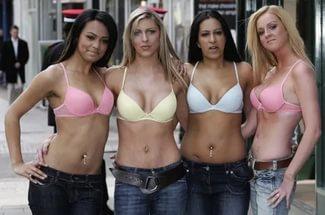 Updates:
what color bra your prefer?
---
Most Helpful Girl
I recently had a boobies related epiphany, maybe about 4 months ago? Ball park figure... anyway! I've always had small boobs. A-cup to be exact, all throughout puberty & now I'm almost 25. So yeah, I think they're done growing for the most part. I used to be insecure about them when I was younger, but as I got older realized how lucky I actually am. I never have to deal with severe back pain, being suffocated when I lay down, having to double up on sports bras when exercising, spending tons of money trying to find bras that fit, etc.! I can wear whatever I want as well! Even super deep V shirts. I got rid of all my padded & underwired bras, because there is absolutely no point for me to wear them. My boobs are great just as they are! I don't need them to be pushed up to appeal to others' tastes. I mean, if somebody seriously turned me down during sex, because my boobs weren't big enough? That's fucking stupid & truly laughable. So yeah, I either go completely no-bra now. Or I'll wear the bralettes (without padding) underneath shirts that would show my nips. I don't really like showing my naughty bits in public, as that is actually illegal if someone were to complain.