Describe this outfit? I think it's quite quirky?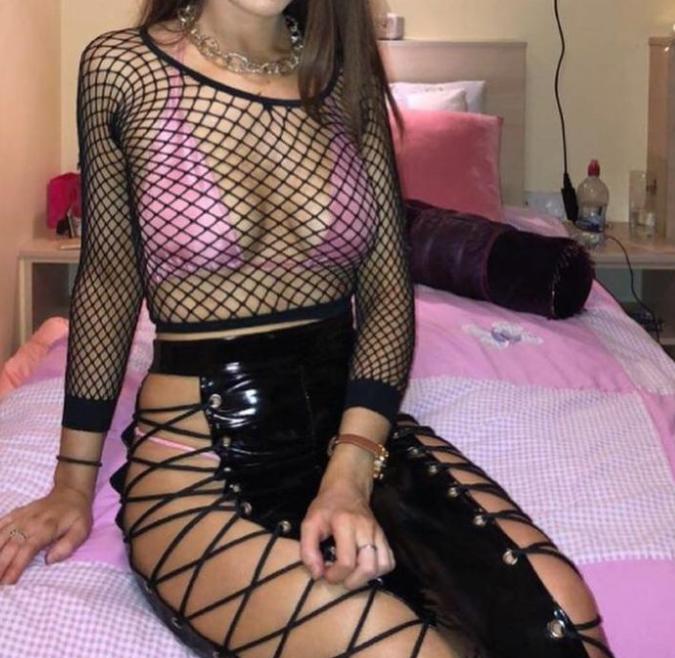 Updates:
---
What Girls & Guys Said
24
46
Personally, the outfit is fine, there's nothing wrong with it! Just as long as you wear it for the right occasion, I used to hangout at SKN2 and Torture Gardens all the time, and that out outfit would be considered relatively tame! If your clubbing, etc it's perfectly fine - I'm sure you would Rock that right x

something I would say if we were together you'd probably not leave the bedroom wearing... ;) sorry I can see what you mean it's quirky but also extremely sexual

Kelli,
I have never quite been able to feel like I can infer just what that kind of provocative outfit means to the person choosing to wear it.

To me, It's a rude party crasher announcing it's arrival. It's natural beauty guarded by land mines and booby-traps.

I want to get close enough to smell it. I want to grab it and tug on it. It's impudent. It needs to be controlled. It needs to be handled. She needs to be subdued.

And I'm just the man to handle that which needs to be handled. Im telling you I'm taking you. I don't need questions so be quiet! You can speak when spoken to and don't fight me. Now come here!

The pink underneath it all, is what you really want me to see. It's perfect. What the fuck is all this abrasion your're surrounding it with for, anyway? Don't answer yet. Are you trying to tell me something, or just trying to piss me off?

Well, what? Go ahead and answer me.

You may ask me a question,

Rexnine



Eww 😰

Stripped tease
I don't like it, my eye cannot focus and see form and shape... but I like modesty.

Quirky? That seems like an odd way to describe a hooker's outfit.

Not really a proper going out attire. More like "let's have fun in bed" attire. The skirt's cool tho. And if it's you in the pic, you look 😳👍

To much going on there... I don't particularly like it. Doesn't really look cute, and if the point is to turn a guy on, for me it wouldn't do it

would look so much better with a black bra and no panties

lets fuck. that is what it says. only one thing wrong with the picture, too much underwear. take off the bra and panties. lovely boobs as well

I'd wear it if the bra and panties were black and if I wasn't a fatass
xx
~ Mrs Manson

I don't think the pink top is meant to be a part of this outfit!

Sexy but busy. Nothing I'd want a girlfriend to wear

Very well-said by you, Quirky. That is how I would describe it.

I think the PVC is cool and who dosen't dig the fishnet look...

It doesn't leave much to the imagination. It's very sexy.

Very nice so hot and sexy is it you that is wearing it fishnet and pvc so hot

It makes me want to go fishing

You will get very cold in that lol

Lol. Quirky is certainly a good description.

Quirky is definitely a good word choice for this

The top is a no.
The skirt is AMAZING.

It looks like a whore's uniform.

means you are just ready for it

That's an outfit women wear to my club. It's hot.

Something that I would wear

Perfect outfit for the swingers club.

I dont like it, too sleezy

It just says Come take me

Quirky is an interesting word to use.
Click "Show More" for your mentions
Select as Most Helpful Opinion?
You cannot undo this action. The opinion owner is going to be notified and earn 7 XPER points.