How would you react if someone did this to your food just before they served it to you?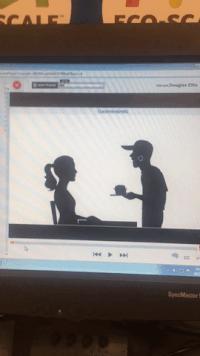 Lol this was in a training video at my new job. How'd you react?
Updates:
---
It's not the end of the world. I'm not a germaphobe but I probably wouldn't want to see it before eating it. If told afterward I'd be like cool.

Except on sushi. Don't fuck with my sushi.

I actually did that once when I was a server but it was to a salad. I didn't give it to them, but I did have to take it back to the kitchen and make a new one. The cook wasn't happy lol



Push it off the table if he seriously handed it to me after doing it right there!

Ask for a replacement...
Or just leave... since I'd be afraid what they'd do to the food they come back with on purpose.

What's in the guy's ear? Gauges? XD Haha.
Honestly, if I saw someone spit in my food, I'd ask for a refund and leave. You can't trust that place.

i'd dump it on him/her, and then leave. that's gross.

congrats for the new job... well i'd either ask for replacement or leave

I just need a new meal and we will be ayyyy okayyyy

I'd want a new meal, with different server

Congrats on your new jobbbbbb! :) omg id leave

ı would just give it back

I would be disgusted and demand another one

My first thought is disgusting, however there could be more to this story than we think. Are the two people related? Husband and wife, friends, or brother and sister? Were her eyes closed and ears incapacitated when he delivered the food? just kidding I'm just feeling a little delirious right now

Sneeze back on the burger and say
"Hey mate, think something's up with the burger, do a taste test for me, will ya?



Leave! God only knows what is going on in the kitchen!

If it was a hot girl I'd eat it. Who doesn't want hot girl gems?

I wouldn't pay for it if they did that right in front of me.

tell them nicely to give me another and take that backk

I would eat that burger and leave my number on the receipt

Simply just get up and walk out of the fucking restaurant

I won't accept it, i'll ask for a new one or all of my money back.

I'd report them to the manager, if it's still not resolved I report them to the health department.

Ask for the manager and report them.

I would probably just get up and leave

I'd smack the food to his face.. 😎

Tell him to get me a new one with no charge.

I wouldn't drink it, I would be disgusted

I'd give them a blank stare. I wouldn't even say anything. I'd just glare at them.
Click "Show More" for your mentions
Select as Most Helpful Opinion?
You cannot undo this action. The opinion owner is going to be notified and earn 7 XPER points.