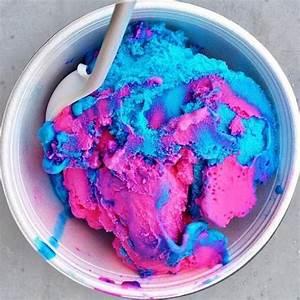 Updates:
---
Most Helpful Girls
Birthday cake looks better.

I will always remember the very first time I gave my child chocolate ice cream- she was maybe 18 months old maybe younger and she just looked at me. Then shook her head no, pointed to te bowl and said poop! Lol She thought I was giving her a bowl of poop to eat 😂 I had to eat like 3 bites of it before she got up enough courage to try it. Then she said yum! Lol Ah the sweet days of me giving my kid poop in a bowl!
Most Helpful Guys
I think the cotton candy looks way better (from an "I look so artificial ima kill ya" standpoint) - but birthday cake 🎂 will always have my vote for the flavor ;)
Cotton candy. I've never cared for yellow cake... it's so bland.