SO, Where are the downvotes?
G@G promised it. Its viral since February yet no trace of it...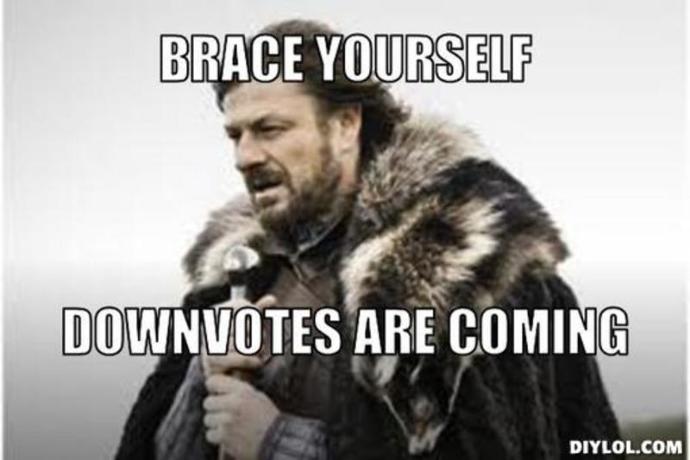 Updates:
---
They also said they'd bring back the feature that allowed users to save/archive posts that they thought were interesting for later or future reference. It's been months since that's been taken away and still hasn't been implemented again.

When has GaG ever done what the community wants? They always do the opposite.

I need down votes due to the amount of people I disagree with. It's easier then commenting on their opinion ugh

I liked downvotes, some people gave shitty advice and sometimes you don't want to comment or write a spiel in a reply to their comment. If there were downvote trolls who downvote people they didn't like who gives a shit. What a bunch of cry babies, learn how to take negative feedback when your dropping an opinion warranted or not. It's not the end of the world.

They promised a lot of things... and they've still failed to return the ability for us to follow questions as well 😒

Lol I really don't care about that shit.
If you have a problem with my opinion you can always still use the comment section but I guess that is too much work for the cowardly hater or those people who just randomly downvote opinions simply because they don't like the user.
And because I'm neither a cowardly hater nor a person who downvotes certain users because they dislike their profile picture or for whatever reasons I've never missed the downvote button on here, not even once.

Now that you said it... I wonder how many down votes I would get... Hmmm

I think we are all waiting for them to come back

Imagine that, they lied to us, big surprise...
They did say so... i don't see the point of having an up without a down though... i think they should just scrap it all. don't gotta up vote or down vote anything. and remember the down vote trolls? just down vote but say nothing? yea.. that was irritating.

It could be that when they made it so that there are no more downvotes they changed how the entire system worked so bringing it back would not be so much as simply turning them on as much as it would be about redoing the whole thing again.

There are no downvotes now, it has been removed.

Must... flood... database... with... down votes.



I never really understood the big deal about them. Well, maybe because I never downvoted people that much, but I sure did like collecting them. xD

I like it without downvotes.

I think promise that was a test run of a failed April Fools joke.

they probably just told us that so we would shut up about it

I'm kinda happy that they are gone... BUT, the community wants it back and they said they'll bring it back.

I can understand that it takes a bit to adopt it to the new changes, but it has been many weeks by now and it looks now as if they just said yes to make us shut up

You can take away your upvote for someone... maybe they think that suffices lol

You want downvotes to come back? I was glad when they stopped allowing them, lol.

Although I'd not kill to bring downvotes back.. I believe it's an important feature here...
Click "Show More" for your mentions
Loading...
;