It doesn't matter all that much, but I'm just wondering about it. Do you jump to conclusions about another G@G user after having read only one post? Do you read someone else's ASSumption of another user and and ASSume it to be accurate?

Several exchanges on this recent take made me start thinking about it.

https://www.girlsaskguys.com/sexual-behavior/a32013-what-a-slut-really-is-the-importance-of-self-worth

It's nothing new. But the recent comments made me think back... have I done this myself?

Do you ASSume that someone is a "feminist" or "misogynist" based on one or two posts? I mean maybe they are... but can you KNOW that right off the bat very often?
Just because I might not disagree with EVERY single thing about feminism, doesn't make be a "feminist". And just because a guy makes an angry post about some cheating ex-wife, doesn't make him a "misogynist". Have you made those errors in judgement? I may have, especially in my early G@G life.

How about "liberal" and "conservative"? Are you guilty of that one? If they take a political position on something that you oppose?

Most people that know me here know that I loathe the word "slut". I believe it's a slur that is almost as bad as the "N" word, and we should simply CHOOSE not to use it. You may not agree. OK, fine.

That doesn't make me against your "Right to Free Speech".

Maybe it's the election. I dunno. But lately, I've seen a rash of people being quick to judge and label, and doing so incorrectly. "She's a feminazi dude, don't listen to her" - "yeah you're right, she blocked me for no reason, typical feminist".

WTF? When did we stop thinking for ourselves and basing our own views on what we observe?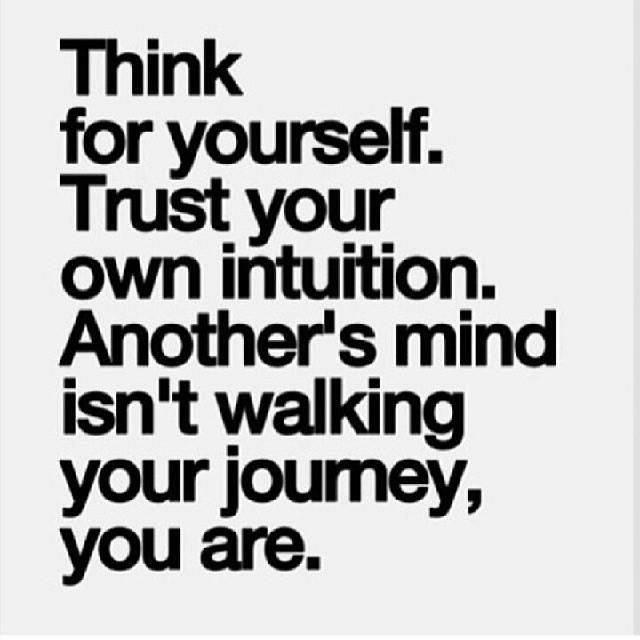 I don't disagree with EVERY thing feminists or liberals say. That doesn't make ME one of them. No one is ever wrong or right 100% of the time. Period.

I know. tl;dr.

SO, can you honestly say that you haven't done this? And if not, can you change?


Updates:
---
Most Helpful Guy
no i dont do that, im an absolute stalker in this. i look at the feed and i will look at the opinions of interesting strongly opinionated people and think about what they said before forming a conclusion about them.
Most Helpful Girl
I base my opinions if people off of my interactions with them and how they interact with others. Combination thing. There have been quite a few people that I thought were one way based off of how we interacted, but after reading their opinions on ordering and seeing them interact with others, it changed my view of them. But at the end of the day, this is the Internet so it could all just be one big act.