Website #1
http://www.vaccineriskawareness.com/Your-Immune-System-How-It-Works-And-How-Vaccines-Damage-It
Video #1
The Theory

Medical theory is that if your child is exposed to a weakened version of the disease, he will produce antibodies to that disease and become 'immune', so that he will never contract the illness.
At first glance, this sounds like a solid principle, BUT it only focuses on one small aspect of the immune system, the antibodies, and fails to look at all the other functions responsible for protecting your child's health.
7 points proving vaccines damage:
1 The skin acts as a barrier to prevent bacteria entering the body. It also filters out toxins through fever, which is the purpose of a fever when your child is ill.
2 The nasal hairs prevent foreign particles from traveling up the nose, and the mucous membranes excrete a substance which is anti-bacterial.

3 Tonsils help prevent respiratory diseases and illnesses such as Polio, and saliva contains substances which destroy and neutralize microbes.

4 The spleen and intestines, among other organs, deposit fats and vitamins around the body and protect against viral and bacterial invasion.

5 The thymus gland produces thymus cells, known as 'T' cells, which are antibodies to infection.

6 There are various glands (nodes) in the body that drain it of toxins and useless material. For instance, the cervical nodes drain the head, neck and chest.

7 The pituitary gland in the brain directs all of the systems above, so if the brain goes wrong, so does the immune system. It sends electrical impulses to all areas of the body, stimulating cell re-generation and muscle growth. These electrical impulses also stimulate the thymus gland – the center of immune function.
My evaluation of 1st website:
Anytime you must artificially receive a disease in order to supposedly trick your body into how to fight against it, you are violating your human rights and the very essence of how you were designed to be healthy to start with. There is more evidence showing the negativeness of vaccines than there are the positiveness of vaccines. Again, read the website. Don't argue with me why I didn't bring up every point within it.
Also, there is speculation that vaccines prevent disease but it is not proven. You can't verify what a vaccine will do because there was no way of knowing you wouldn't have received the disease to start with.
Example:
If I receive a measles vaccine, you can not verify that it saved me from receiving the measles because had I not been vaccinated, there is no way of knowing if I'd not got the measles to start with. You also can't say that if a person has the measles that they wouldn't have if they got the vaccine because there is no way of knowing if that vaccine would have worked or not. Your body may not trick it the same way as other people's bodies do to remember the disease.
I'm not going to point out all the things the website shows. People can read for themselves and learn how vile vaccines are.
Website #2
http://www.stopmandatoryvaccination.com/
Video #2
Video #3
Want Your Children To Be Safe? We Do Too! Question Vaccines!

Vaccines are dangerous and unnecessary for vibrant health. Unfortunately, we've been lied to. On this website you can find numerous videos of parents talking about vaccine injury or why they are vaccine free, read comments from over 180 parents who share why they stopped vaccinating, discover how to raise a healthy child without any vaccines, learn the many horrors of vaccines and how dangerous they actually are, and find out how we have been lied to about the need for vaccines for public health. When a parent who has a vaccine injured child says to you, "DO YOUR RESEARCH," that's why this website exists – so you can do YOUR research. Be brave, your children are counting on you!
Mandatory Vaccination Laws Are NOT For Our Health

The War On Personal and Religious Belief Exemptions

Vaccination bills have been introduced all across the country seeking to end our ability to opt-out of the vaccination program through the use of personal and/or religious belief exemptions in order to attend public or private school. We are told in mainstream media and by the pharmaceutical industry through their representative politicians that we have a health crises, that vaccines are safe, that vaccines are required, and that we must get vaccinated or we and/or our children will suffer severe consequences.
Picture #1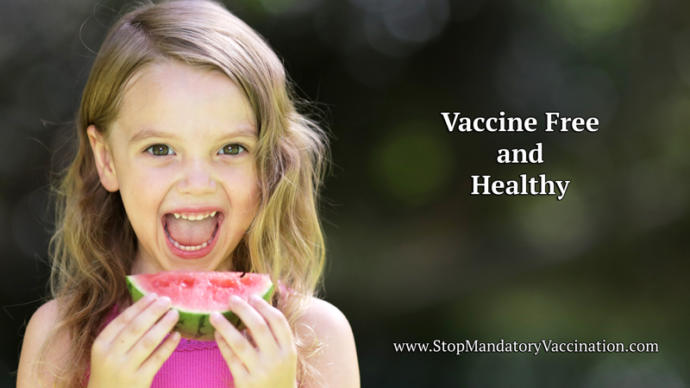 Picture #2
My evaluation of 2nd website:
All vaccines are toxic. So to get vaccinated is to purposely put toxins in your body. Healthy people have healthy immune systems and do not need vaccines. We have been lied to by the mass media because their goals is to have people dependent on drugs. It's the same deal with diseases. Their only options are drugs and surgery. It is never not to better the whole body, mind and soul. We are spiritual beings and do not need secular things like vaccines to invade our body.
Our world system is corrupt and vaccinations are one of the early signs of the world setting up its ungodly system and trying to mandate it to people. If a child is not vaccinated by age 5, they must be home schooled. They are bullying parents to force them to accept their rules or they can't go to public or private schooling. They are even making it mandatory, or trying to get adults vaccinated, in order to teach children in day cares or schools. Vaccines kill and are demonic in nature.
Final encouragement to all g@g users:
Please use these 2 websites as motivation to stop the wickedness going on with vaccines. They are 100% not needed and should never be applied. They 100% will weaken your immune system and you will never live life to the fullest. Vaccines rob you of true joy, takes away the pride of living and makes imperfect what you were created as in the world. It ruins your testimony and leads to people losing grip of other things that are unhealthy that people will accept as healthy. Take the time to learn the trickery that doctors use to trick you into thinking you need them. Don't be duped into getting them or having your children get them. People who resort to vaccinations are unintelligent and deceived and a contributor to the wickedness of society.
Thank you, you magnificent g@g users.
---