Rate me and if I'm not a 10 give me a good reason?
also do u prefer my hair up or down?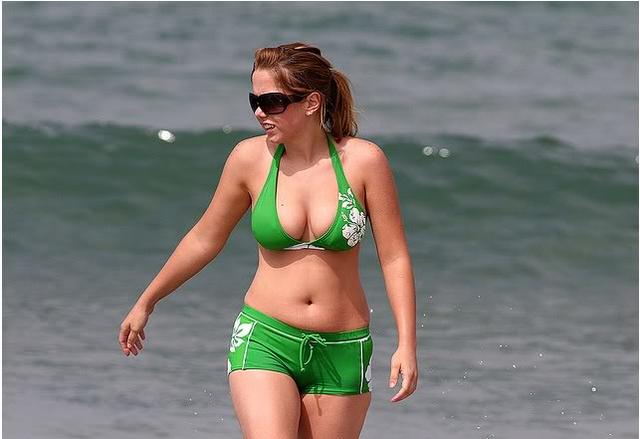 Updates:
---
Looking at your third pictures, what I see is

s3.amazonaws.com/.../...in%20top%201%20400.jpg.jpg

For those bringing up ideal body fat, the average for women is 25 - 31%, for fit women it is 21 - 24%. Regardless of the overall fat, where it is carried makes a big difference. You have a little extra showing while standing and a lot showing when sitting.

But what is annoying is that every few weeks you ask the same question and trot out the same pictures. It does get old.

@sobg71124 - almost can't believe you said "NO guy wants a flat stomach." Lots of guys want a flat stomach, and even if only ONE guy wanted that, it would make your statement WRONG. (Which it very much is).

Wow!! What a knockout! I would like to see a better photo of your face, so I will not rate it. But, you body is wildly attractive! Nice and curvy and soft, and proportionate. I wouldn't change a thing. I read the comments below. People are so rude telling you you need to lose weight. You don't have any weight to lose. Even if you put on a few pounds around you thighs/hips and abdominal area, you would be just scrumptious! I have never given a number before, but judging from your body (that I can see clearly enough), I will give you a 9. Please share close-up pics of your face,, please! You look cute from what I can see. And make me MHO. Hhaha!

I give you 8/10 for the first two pictures, but you don't look that great in the third one. So i guess i like your hair better up, but if you grew it longer and got a more stylish cut, it would look better down. And if you lost 10-15 lbs, I'd upgrade you to a 9/10.

I would say a 8 and hair down. Very attractive. The lost 2 points nobody perfect and concentrate on the 8 positive points.

Your cute I'd date you. Numbers are for objects your not an object.

I say 7/10. Your not super good looking and also your not fat, but looks like you could use some excersice.

Can't give you a 10 as I can't see your eyes properly. Personally don't think weight is an issue, got a nice figure

You have a great face but your belly slightly detracts (just slightly) I like hair either way. Um 7/10 yea...

based on these pictures honestly not even close to a 10!! Try it again with better pictures, a little advise some where you wear more clothes ;-)

Stop using the same pics, it's annoying

Well i won't give you a 10, cause nobody deserves a 10.. only the most beautiful women i've ever seen.. which i haven't seen yet! but you look fun! you are sexy in your own way.. I mean that a lot of girls are trying to get 'the perfect body' without a little bit of fat... but i like curvy and self confidence :) and that's like you !

You have posted this before. Im giving you a 9. You're great but not perfect.

Wtf! U r as hot as hell 😋

I don't ever rate anyone; in my opinion it's basically objectifying them in a way. However, you're simply beautiful the way you are.

I won't give u a 10 just because i know u can look better :)
No one gets a 10.
No one is pure perfection in my book.
You have a average looking face.
I rate you a 5/6.
You could tone up your stomach a little bit.
You're not ugly... but you're not strikingly beautiful either.
There's nothing wrong with that... as long as you have confidence.

You look really pretty. I personaly like your hair up

I'm not trying to feed your ego, but I personally do not think you need to lose weight.

I don't give number ratings. I think it is degrading, but I think you look good! Beautiful curves, pretty hair, nice smile, seem like you have a fun carefree outgoing spirit.

I think ur really really pretty 1-10 i pick15

Get off GAG you attention seeker.

I think your pretty a 10 for your confidence not saying your big my body is the same and I'm ashamed you go girl!!!

Very few people in this world are actual 10s. You're average, like the rest of us.
Click "Show More" for your mentions
Select as Most Helpful Opinion?
You cannot undo this action. The opinion owner is going to be notified and earn 7 XPER points.