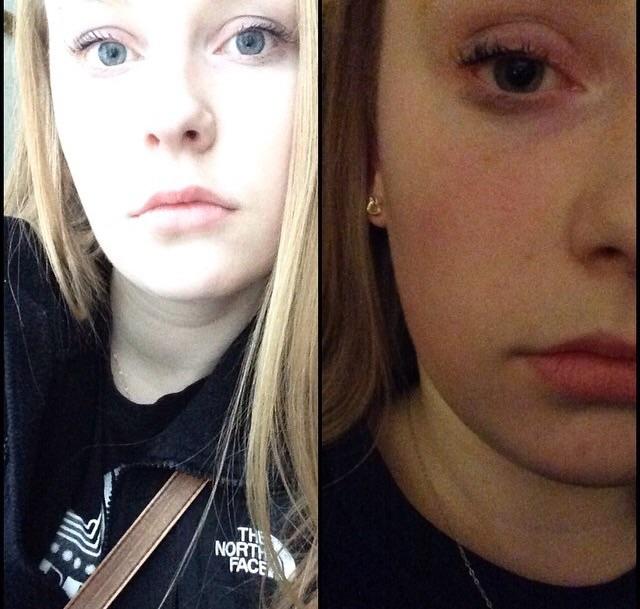 Left: normal eyes
right: now..

and yeah, I am on drugs right now
Updates:
---
You look high obviously. Seems like you have a case of bitch resting face too... (Not saying you are a bitch)

Your to beautiful to do drugs. And yeah you look high because your pupils are dialated

Tired looking, bloodshot, dilated pupils... yep you're high.

Pupils a bit dilated alright

Yes, you have bags under your eyes and your pupils are dilated. What's the point of this question again?

I can tell only because I'm a part time bartender and I've learned to recognize it.

haha stop smoking that reefer!

You look high as fuck in the right picture. You on dope right?

Good for you your parents must be so proud of you

Yeah you do, remember moderation. Is there something bad happening in your life?

Yeah you look pretty blazed.
Get some eye drops if you have to hide it from people.

Yeah, dilated pupils, flustered face, etc. On the right.

Oh you sure do. I'm sorry.

In the pic on the right you look a little high yeah.

Fist off, don't admit that online. Government's watching.

Second, don't do drugs. They're bad for you (and don't complain about it either, just stop).

Third, you look like you either stopped crying just seconds ago or had a really rough night sleeping.

Your pupils are almost the same size and shouldn't be because in one picture your in a heavily lot area and in the other your not. Your face on the right also looks like your face is overly relaxed so your either sad or on something. But I've got a degree in biology and read sociology/psychology for analyzing behavior who's done pills and smoked some good stuff so most people probably wouldn't notice as long as your not to jerky or sloppy.
Yes you look high. Congratulations.

You look like you had been crying. Did you do weed or something else?

You look like you need therapy.

Is it somehow cool to post selfies while on drugs? Do we really need to know about your poor life choices?

Yes super obvious on dat shieeet XD

Yeah you do haha theyre low and your pupils are huge :0

You look like you are on heroin on the left.
On the right you look baked AF.

They won't notice unless they're bloodshot red. Also your eyes are droopy so make sure theyre not when you see your parents. Your eyes are dilated but that might also be the dim lighting.

High on what kinds of drugs?
Click "Show More" for your mentions