I'm insecure about this at times.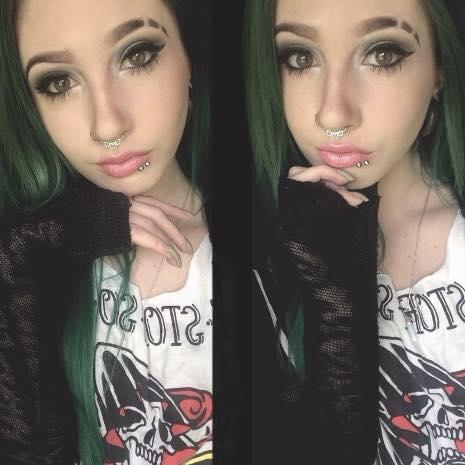 Updates:
---
Why are you insecure about it? You have a very gorgeous smile, and anyone who says otherwise is either being an idiot or a liar.

Even you.

You are beautiful. Stop with the piercings... but yes you are beautiful...

Everything looks stunning except the piercings.

Yes you are one beautiful lady!! You got a nice smile... I am just imaging you how you would look with those piercings and hair color...
I think you would look very cute..! So you got nothing to be insecure of! It's just something you have created or think about yourself...

Yeah, but I'm not a fan of the piercings and what you did to your left eyebrow.
I suppose that's why they say different strokes for different folks and you can't please everyone.

Hell yes, you're definitely beautiful. Such a pretty smile.

You are pretty but I would not date you. I don't like your style. I think you could be much more pretty if you changed up your style.

You are a pretty person. I can assure you 100% and i swear by my turtle'a life that you dont need to feel insecure about your image today. Damn cute, give you 9.5 and you dont even need to use those in your face or paint hair to be it.

You're different and unique which is all thats needed in my book, you should eb happy with who you are and not listen to anyone else regarding the matter

But yes you are attractive

You look cute, but unfortunately the facialwear isn't too great.

Of course I have no say in what you wear.

Sure thing boss; you look good

Yea your cute and pretty, very much... pretty sexy

I'm not a fan of the lip piercings, but you are very beautiful. :)

You look great... no need to be insecure!

Quite charming. Just tone down the facial piercings to a simple cute nosering, tops.

Not a fan of piercing on a gurl and gaps in the eyebrows. Ill bet your beautiful without all the facial "bling"!!

you look very pretty, but you need to lose those piercings, not very aesthetic they look if you ask me...

Yes, you are very pretty.

Don't be insecure. You just don't know how beautiful you are.

Yes, very pretty. Beautiful eyes.

What's up with your eyebrows?

Yes you're very pretty. I'd take the ring out of your nose. Everything else looks great

Try to remove the chin piercings.

You look like a young Ann Hathaway lol your cute tho especially with all the black.

You're cute... not with piercings tho
Click "Show More" for your mentions
Select as Most Helpful Opinion?
You cannot undo this action. The opinion owner is going to be notified and earn 7 XPER points.