hi. Over Christmas break I gained about 20 pounds, but i've already lost 6 of those {so far} I will show you a picture of me then and me now. I ran for 80 minutes straight today and I ate less than 400 calories a lot from liquid. Please be honest with me I would really apreciate it. Thanks.. And IF you DO think I should continue to lose weight please tell me how much to ok

Now: also i'm a little bloated right now.. :(




Then:

before I gained)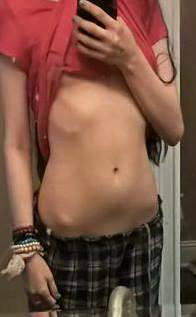 Updates:
---
Most Helpful Guy
I think you are absolutely perfect as you are now - No need to lose any weight
Most Helpful Girl
400 calories a day is not enough. its not about losing weight but maintaining cognitive and heart muscle organ nerve function. see a nutritionist you're going to develop problems you can't reverse. being thin isn't the only thing that happens with losing weight. you become deficient in many things. some of which create annoying symptoms others are dangerous.

dont go under 1200 calories. eat at no less than 1/2 gram of protein per pound of body weight. no less than 4000 mg potassium., you should tale a multi vitamin bc who knows what you're not getting from 400 calories.

you dont 'need' top lose weight. anyone who is not obese does not 'need ' to lose weight. you know that, so what are you really asking?