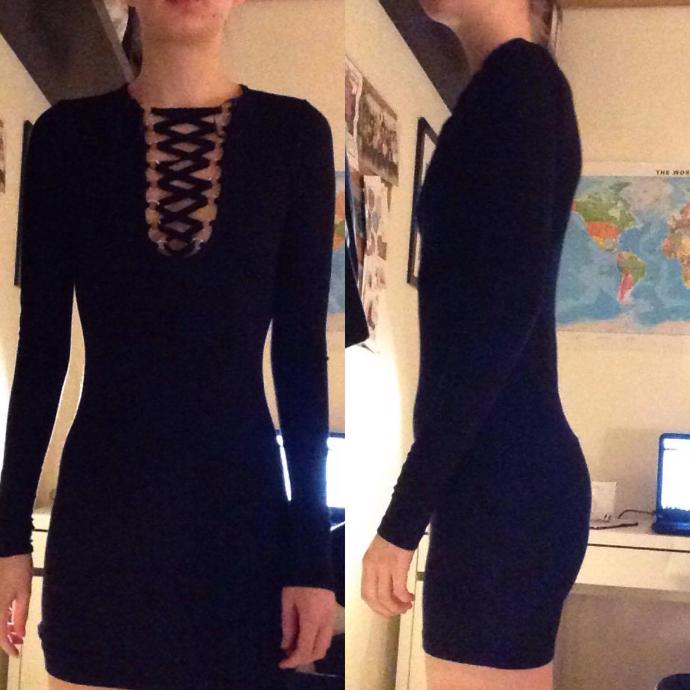 I'm very insecure.

Does this make me look fat? The dress is a bit loose around the chest, hip and back area - and around my lower bottom.
I'm going out tomorrow night.
Please ignore the pantie line and food baby - I just ate dinner.
Updates:
---
Most Helpful Guy
You are clearly very insecure, given that you're using your left arm to cover up your stomach region on the side shot. I take it that if you were being strangled by a dress, you would still say it was too loose. To start off, you have a very attractive body type. Stop worrying so much.

You've got a bit of a stomach--which will get worse if you don't change your eating or exercising habits. That's about at the point where it can start getting very bad or very good. But since it's only your stomach, and the stomach is the last to leave with fat loss, that shows your overall body fat is quite low. You're very skinny with only that exception.

Probably.01% of the population would really care about that. The dress looks perfectly fine on you.
Most Helpful Girl
ignore the food baby... aren't you going to eat tomorrow too?

anyhow, you dont look 'big' in size relative to what i commonly see. but technically, we can't tell if you are carrying extra weight for your frame bc you are dressed. you could have really small bones and a lot of extra flab, or a lot of fat and little muscle-skinny fat. ( I'm trying to think of why you'd feel fat at your size).

It does not look to me like you are overweight for your frame. f you are uncomfortable you should work out and tone up. You just look like you have a small frame and healthy weight, as in no huge fleshy protrusions and No bones protruding. I don't know why everyone is saying toot thin., its just ignorant.

anyhow i think you look good in the dress and i like it. :-)