They're the biggest earrings that I own and I hardly ever wear earrings, and when I do, they're normally studs. I've never worn these hoops because I'm honestly scared about looking "slutty" or "trashy" or "trampy." They come past my jawbone but aren't longer than my chin. I don't wear "trashy" clothes either -- usually black jeans, solid toned shirts (I only wear crop tops maybe once a week, sometimes never, and I never wear leopard print or anything trashy like that -- I would say that I carry myself with self-respect and I don't just give, you know, IT out for free), adidas superstars, and either my denim jacket or my Barbour jacket. I'm a quarter black so I guess that they make me look a bit more "ethnic," but I'm not going to apologise for that.

They're around this size: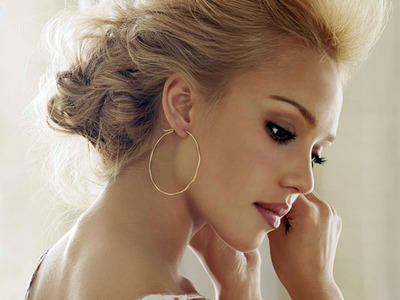 They don't look like this:


25%(10)25%(18)

Vote

25%(8)

48%(19)47%(34)

Vote

47%(15)

No, and they make girls look prettier

22%(9)17%(12)

Vote

9%(3)

Yes, and they make girls unattractive

5%(2)11%(8)

Vote

19%(6)
Select age and gender to cast your vote:
Updates:
They DON'T look like the second two pictures -- they're very thin and delicate.
---
Most Helpful Guy
Some gold loops look trashy, some don't. and sometimes a pair that looks trashy on one person look good on another. they might be my least favorite kind of ear ring, because they are so inconsistent. You never know whether you will look classy or trashy in them.
Most Helpful Girl