What hair color should I dye my hair?

Hey girls/guys! Don't you ever feel like you had the same hair for ages, well I feel that way so I am looking for a change. I am a natural dark blonde planning on dying my hair either platinum/light blonde (by the way, is the color shown below a light blonde or platinum?) or black, specifically I would do a level 7 root since my roots will show up instantly with the light hair or should I dye my hair black with a blue sheen to it. Please do not suggest any other colors since I am geared up into choosing either of the hair colors shown below. Thank you. Please comment below on what you think I should do? I love reading the comments below. :) If any of you are wondering, no I would not dye my eyebrows dark if I were to dye my hair black since I think I do not need to, since I think I already look good with the combination (blonde eyebrow/dark hair), plus it so much work for me since my eyebrows will grow fast. :)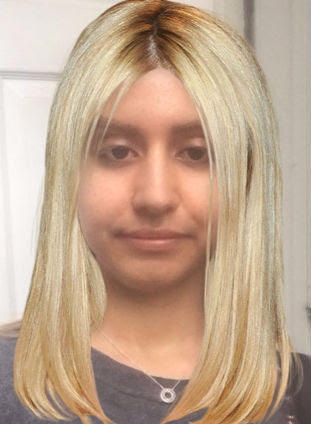 (This is the color I would go for, ignore the hairstyle.)
Select a gender to cast your vote:
Updates:
Guys I am deleting this question and making a new question with less photos, I realize how overwhelming it is to look at all of this. Please do not get mad if I repeat the same question because I will take this question down when I allowed to do so, for now on answer the updated question.
Hey guys/girls I was receiving some comments on how not clear the pictures are so I will be making an updated question with less pictures and clear pictures so please stayed tuned for that!
---
Most Helpful Guy
These picture are freaking me out
Most Helpful Girl
SInce you are a natural blonde I would try the platinum! That way it's not a HUGE change, so if you don't like it then it will be easy to switch back to your natural color. Going so dark is a big step and would be hard to change back to your natural color, so I say start out by going lighter, and then maybe in the future you can try the blue/black!