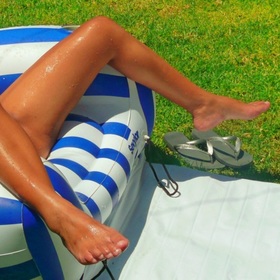 "Queen Bee" of "the Hive"
Naughty li'l bi-sexual woman born & raised in California where happy cows come from. I spent almost the entire second half my life in the Philippines with the man of my dreams. And, now, after 19 years away from my homeland, I'm back & staying for good!

I'm a tireless party animal who lived a blissful but sinful life. I've never missed a day praying to God to give thanks for His Blessings & repeatedly asking Him to forgive me for my sinful fun-filled lifestyle.

After having returned to sunny California with all our four-legged and winged friends, we're now married and intend to live happily ever after in either a farm & a vast open field or continue living the beach life.
Xper Points 47,510
No. Superb Opinion