Las Vegas (we'd travel 24 hours by car)
Orlando (we'd fly)
The Bahamas (we'd cruise there)

Each place has attractions and dream hotels:

Bahamas has Atlantis hotels and waterpark as well as several beautiful beaches. The food there seems a little too pricey though.

Orlando has theme parks and nightlife like the CityWalk along with several beaches. It also has some nice hotels like Loews and Hard Rock.

Las Vegas has more casinos than the other two, but there's no beach there. However, there is Mandalay Bay which is like half hotel half waterpark. However, we'd stay in the neighboring Four Seasons hotel if not Caesars Palace. I love that Vegas offers a taste of Rome, Paris, New York, and several places we always wanted to visit.

We could probably stay in each place for about 5 days before going broke.

Las Vegas, NV


Orlando, Florida


Paradise Island, Bahamas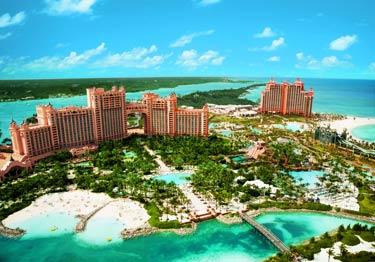 Best explanation as to why you chose the place gets MHO.


Select a gender to cast your vote:
Updates:
---
Most Helpful Guy
Go to the Bahamas, basically cause you'll be taking a cruise, and it's awesome. I took a cruise with my family when I was 11 and I promised myself to do a cruise with my future wife (or long term girlfriend).
It's super romantic to be outside at night with all the stars and just you and your girl with the sound of the waves hitting the ship. I'd totally recommend a cruise for a honey moon.