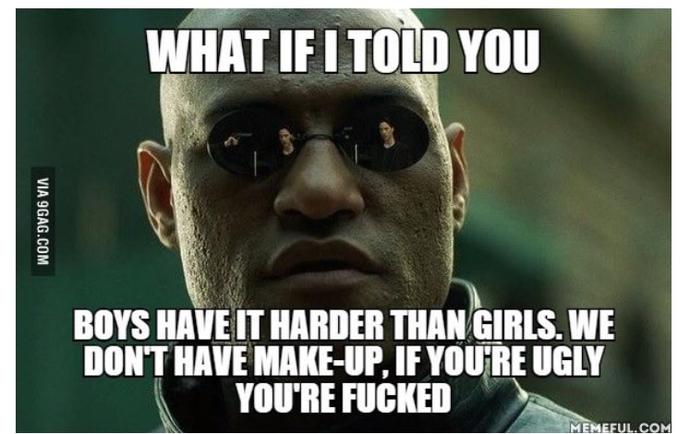 Yes - I agree! (relating to the pic)

No - I dont agree (relating to the pic)
Select age and gender to cast your vote:
Updates:
I know guys use make up but its just foundation and lip balm right? Sometimes eyeliner too but unlike girls who can put false eye lashes, lipstick, eye shadow and everything.
---
Most Helpful Guy
Well in many ways guys carry a lot of burden and have it harder that way, but they don't have it harder for the reasons mentioned there. A guy can get lots of money and get a girlfriend that way.

Guys have it harder because so many girls they are interested in need their hands held for everything. Guys are told they have to approach while women "wait for the right one." So the guys need to face all sorts of rejections, setup dates, be told their "cheap" if they don't pay for said dates, and so on. Women are told to just "wait." There's nothing challenging about waiting. It basically means it's all done for them. The burden is on the guy. The girl just sits there and "evaluates" the guy and decides whether or not she likes him.

After a while a guy will be pretty numb to the rejections so if you watch a guy get rejected nowadays he'll typically brush it off. Watch a girl get rejected and you will see some crazy stuff. It'll eat them up inside even if the girl wasn't initially interested in the guy. The reaction says a lot.