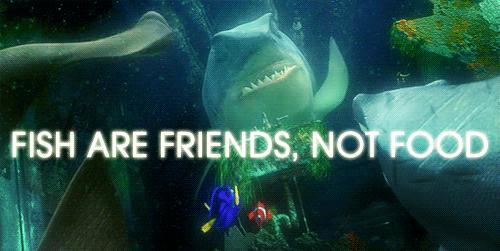 no! FISHIES ARE FRIENDS, NOT FOOD!

ARE YOU KIDDING ME? I'M ALLERIC... :(
Select a gender to cast your vote:
Updates:
---
Most Helpful Guy
I love sushi, which contains seafood often! I also have made things like grilled salmon (sometimes with lemon) that taste great. Crab is also pretty tasty. Seafood in general is great.

HOWEVER...

Salmon sushi is the best in my opinion. So delicious.
https://i.imgur.com/1TaiJET.jpg
Most Helpful Girl
I voted B because I have pet fish and they are adorabubble!!

But no. I can't eat a lot of fish - too much fish makes me feel really sick - same effect with egg.
I do like tuna, sardine, cod, haddock, and salmon but I just can't eat lots of it. Say you get takeaway fish and chips - that amount of fish is too much for me. About 3/4 is my absolute max of fish.