https://www.girlsaskguys.com/other/q1741461-choose-a-favorite-cat to see the first 6 options!

7.) Peanut, named to go with her sister Buttercup. Get it? Peanut-Buttercup? We tell the three orange cats apart by their eyes. Peanut has blue on the outside and brown in the center.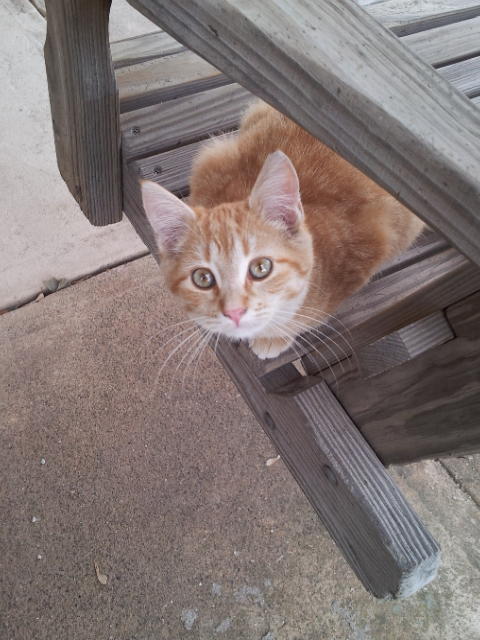 8.) Buttercup, we chose her to be Buttercup because she was the sweetest of the orange group. She would never struggle when being held, and she loved to roll over for people to rub her belly. Her eyes were the brightest blue.



9.) Kit, the little jerk. She likes to play rough with her siblings. She was named to go with Kit-Kat, but Kat was renamed as Kink. We know who Kit is because she's the only female with all brown eyes.


10.) Kink, originally named Kat. He was the only male of his 3 other siblings, and he also happened to be the runt. He was born with hip problems, and his tail was kinked like it was broken, hence his name. Even in his fragile state, he tried to play with the other kittens, and he hopped/ran to greet us whenever we came over. He was my broken little baby. R. I. P.


11.) Binx, an adult male who followed us back to the neighbor's house one day. He ran behind us meowing all the way there, and when we finally stopped, he cuddled up to us immediately.


12.) Mama, named because she's never NOT pregnant. We just wish we knew where she hid all of her babies, we would love to give them homes. Mama is a jerk. She only comes over to eat, and makes sure to swat at least one kitten before leaving. But she's pretty, so I put her on the list anyway.

Updates:
---