Do you fold or scrunch your toilet paper?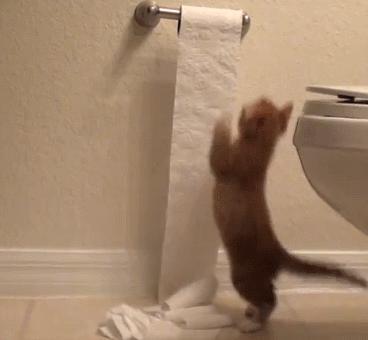 Updates:
---
scrunch. i have no idea how people fold. that's so disgusting lol

Roll around hand a few times, wipe fold...

First off.. i was having a bad day until i saw this! and the comments thank you for that :) and i'd say folder!

if am gonna place a piece in my pocket

Total smash smash like the cat.

First of all, I love the video. But to answer your question, I personally fold my toilet paper.

Roll around hand a couple of times, then fold and wipe.

LOL I used to scrunch but now I fold or as they say on that commercial, do the "conveyor belt". It actually works way better if you're not an idiot and know how to not get piss and shit all over your hands.

Fold, you get more use out of it...
What do you mean scrunch?
Are you saying some people just wad it up and try to wipe with it like it's a cotton ball? Cause that's highly ineffective.

Fold. There's less chance for a mistake. You can't really control what will happen if you scrunch. Fold. Fold. Fold.

I find it interesting that women scrunch and men fold generally according to these results but I do both.

I fold fast if that makes sense. I unevenly fold and scrunch, at times using water (either toilet water if in public or sink water) to ease the roughness on my ass.

Yes I do. Works better that way.

fold ==> all time record used 0 sheets

I just grab scrunch it up like most people lol.

Fold and scrunch. Most of the time you can get a whole 'nother wipe out of it, conserving toilet paper.

I think I fold because I have no idea what scrunching means.

Fold. This is what separates us from the animals.

I make it like a ball usually...
Click "Show More" for your mentions
Loading...
;