What does your dream house look like?
What my dream house cost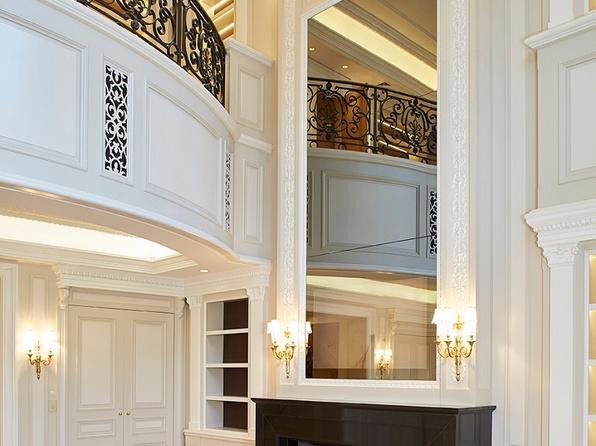 With this as the music room but with more instruments
Updates:
---
Wow, you have an awesome taste I must say! I would love to have that house. It looks fabulous. I would put on nice shoes (the ones you wear with a suit) every day and walk across the marble floors and hear the clicking and feel all important haha ;-).
If I ever get that house, you can come to live in it with me if you want to. Depending on your looks you can either be my mistress/second girlfriend (once you're 18 of
course ;-)) or my secretary (in the latter case I will officially name you "secretary of the estate" in allusion to "secretary of state") ;-).

My dream house would be a large temple what is both inside the forest an penetrated by it, it's walls and rooms merged with the surrounding nature. Within it's walls house vast knowledge and knowings of the ancients. Here we stay on the soil of the first of the Arashins of old. May his eternal wisdom, present long after the death of he who ponders, flow through and around my consciousness to empower and level my worth in equality of the original master.

It got a little poetic at the end but what I'm trying to say is my dream house cannot exist in this universe.

I absolutely love apartments, but I think my dream would be to have at least half a floor of an apartment complex to myself. In other words a huge apartment.

dream house = any home i walk in after work where @teawrecks is waitin for me inside :P ;)

Yes, the house is good but it will be too big for me.

I'd like a large house, but with close, compact rooms - as large spacious rooms bother me for some reason. I'd like a modern style house with tons of different shades of black and grey, or perhaps other neutral colors, but I'd like lots of plants and aquariums throughout the house to bring it to life. It would also always be tidy, organized, and spotless.

If i were to describe the layout, and what i wanted each of the rooms to have, I'd be here all day.

I don't need something big, something modern with great internet, a big bed, but I'd like a nice big garden with some open grass aswell because I like nature. A pool would also be nice.

wow to get your dream house you better start studing to so you can get a job that pays high 6 figures or more

How'd you get the exact pictures of your dream house?

Small with a mini lab and a room for flowers and art. A rad kitchen.

Dream car>>>>>>>dream house

A bigger house than I have now... but wid a garden...
Click "Show More" for your mentions
Select as Most Helpful Opinion?
You cannot undo this action. The opinion owner is going to be notified and earn 7 XPER points.