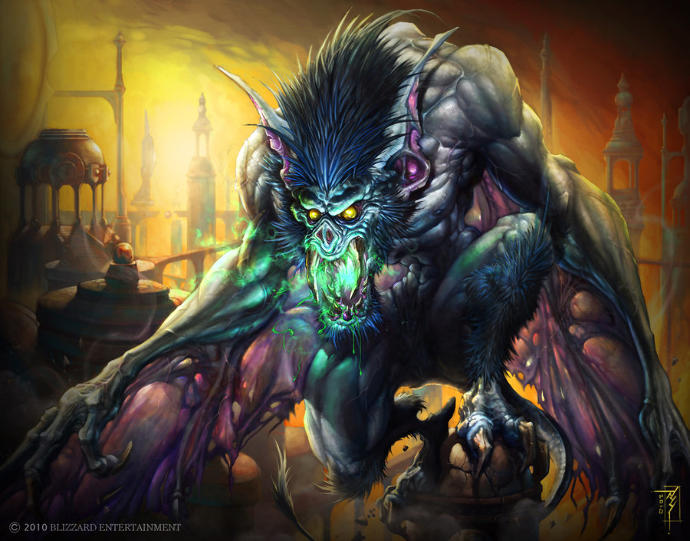 In architecture, a gargoyle is a stone carved masterpiece. With a spout design to convey water from a roof and away from the side of the building to prevent water from running down masonry walls and eroding the mortar between. Architects often used multiple gargoyles on buildings to divide the flow of rainwater off the roof to minimize the potential damage from a rainstorm.

In contemporary fiction, gargoyles are typically depicted as a (generally) winged humanoid race with demonic features (generally horns, a tail, talons, and may or may not have a beak). Gargoyles can generally use their wings (if they have any) to fly or glide and are often depicted as having a rocky hide, or being capable of turning into stone in one way or another, a reference to their structural roots. If they don't have wings, (like the one in the photo to the left), they will scale the building's outer walls and either walk the streets at night or they will go inside the building. Gargoyles are known to protect buildings from evil spirits.

In some variations gargoyles are used as the evil beings that eat humans but as said before they usually are used to protect places from evil.
Its been said that gargoyles can only communicate when either the wind or the rain passes between their mouths. Stangely enough its also been known that gargoyles have the strange ability of water manipulation.
5/5 my favorite mythological creature

42%(5)32%(8)

Vote

23%(3)

25%(3)32%(8)

Vote

38%(5)

25%(3)16%(4)

Vote

8%(1)

2/5 i dont really like it

8%(1)8%(2)

Vote

8%(1)

0%(0)8%(2)

Vote

15%(2)

0/5 worst mythological creature ever!

0%(0)4%(1)

Vote

8%(1)
Select a gender to cast your vote:
---
Most Helpful Girl
I really love the way they protect buildings but they also protect people in the right circumstances
Most Helpful Guy