(the first time i felt mine in the water... the water was cold, it was a public toilet, and i was disgusted with life)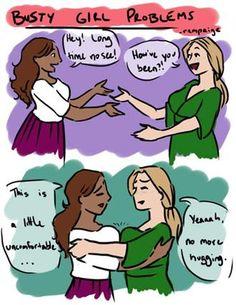 Yes, people who are "bigger" in some places are still very gifted

No, people who are "bigger" in some places have it way harder
Select age and gender to cast your vote:
Updates:
---
Most Helpful Girl
Nothing is really big in me so I can't really tell.
Most Helpful Guy
Imagine taking a shit... now imagine your dick in that water while taking a shit.
Mhm, you think you got all the 'problems' in the world huh? Going to the gym in sweat pants is a no no unless you wanna get pervy stares from ladies and hate stares from guys.

Also, you gotta be even more conscious of playing any sport that involves running, while this thing is flopping around in yo pants and if it's anything remotely tight well you best be dam sure people gonna notice.

Not very often, but sometimes I do give a fk and it's usually these times... then I get annoyed and just say fk it. >.>

Gifted? If you mean because we're 'larger' in some areas no I don't think so. That usually comes with experience and practice if it's what I think you are implying.