A couple of weeks ago @Pac-Man asked a very interesting question and I was personally astonished by the results.

Aren't guys more "Gold Diggers" than girls after all? hehe :P
---> THE RESULTS :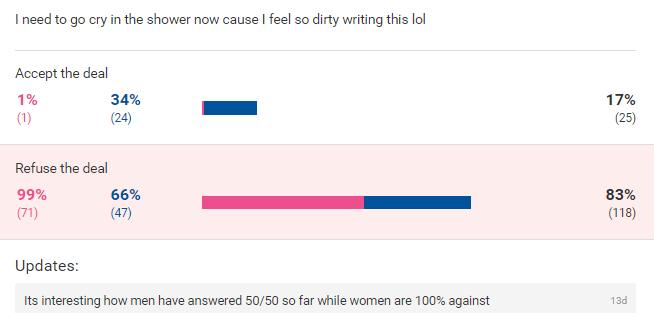 ---
Most Helpful Guy
Well, a gold digger is someone who goes out with you for money.

The question wasn't about dating someone for money, it was about accepting or declining an opportunity to earn money. there's a difference. What the results are showing is that males are more opportunistic than women, and I agree to some extent.
Most Helpful Girl
lel XD I remember that question.

More like if you say a dude could win a lot of money, even if it means causing their loved ones to be mentally scar, hurt, etc they won't care and still do it. Though that's only true if the people who voted yes truly believe that.

I've seen some male gold diggers before and it's annoying watching someone you know being with one.