I love this story and lesson in the Bible. The background of what is going on is David who isn't King yet but it's living out as a fugitive in the wild volunteered to protect sheep in the wilderness for some rich dude and in return David and his men desired food but the man said no lol...
1 Samuel 25: 21-22
Now David had said, "Surely in vain I have protected all that this fellow has in the wilderness, so that nothing was missed of all that belongs to him.
And he has repaid me evil for good. May God do so, and more also, to the enemies of David, if I leave one male of all who belong to him by morning light."
* The full story here.
https://www.biblegateway.com/passage/?search=1%20Samuel%2025&version=NKJV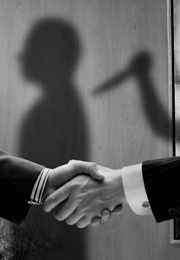 Updates: