I wrote about my perfect dream man, now here's my dream woman. As I did prior, I'll start with looks and then personality. Remember, looks aren't everything but they're a plus!
Tattoos.
Yes I fuckin' love tattoos. If a woman is covered in tats there's just a certain appeal to it...I can't explain it but it just makes me shiver.
Long, thick hair. (Prefereably dyed).
I love red heads the most but I love it when a woman has really long and thick hair. Great for me to play with and pull on and it'd make her look gorgeous in my eyes.
Piercings.
Some piercings are just plain sexy on a girl, and I think those are septums and lip rings. I love them on girls (when they're tasteful) and I want to get some.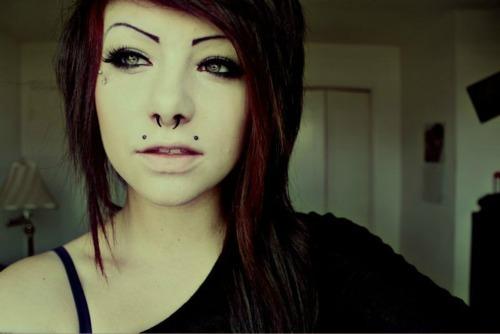 Good boobs with a big ass.
I don't care how big her tits are as long as they're proportionate to her body. But I'm a #BootyMan so I wanna see some jigglin' goin' on down there. Lemme smack dat ass!
Green/Brown eyes.
Just like for men, I love green or brown eyes and I pracitcally melt. Lemme just stare into them and get lost in those mini galaxies.
For personality:
Intelligence.
Intelligence is sexy, and if my girl acts like a dumb bimbo to be cute, it's just plain stupid. I can not and will not deal with her.
Good humor.
Humor is everything to me so if she has the same dark kind as me then we'd be great. She doesn't have to like them but she has to appreciate my shitty puns and bad pick up lines. I love to laugh so if she can't make me laugh then goodbye.
Attitude/Sass/Sarcasm.
I like my woman a little on the the abrasive side. I am sarcastic often so if she's bitchy, protective and sassy then she's great for me. It's like a challenge and it's fun. I love when she can reply to my sarcasm with more sarcasm.
Open mind/kind heart.
I am very sensitive, and I'm a bit odd. I'm pansexual, I'm Wiccan, I like reading about serial killers and such. So if she can deal with all of that and accept me for me being me then we're great.
Thank you for reading about my dream woman. Remember, I love everyone for who they are. That's why she's my DREAM woman.
Below is my ex girlfriend. She was all of the above...except for one of them so we didn't work out. She has a rockin' bod and a great personality over all though. But she's lesbian guys so don't even try!