We've all had that moment where we've been sitting somewhere and out of nowhere, a confident sexy woman glides across the room. You can't help but stare, admire, perhaps feel a twinge of envy at how stunning this person looks at 1pm on a Tuesday. This woman looks both striking and effortless as she glides across the room like she owns it.
A woman can be both sexy and classy at the same time!
Merging the two is far less about being overt and obvious about it, but rather knowing what you have to work with and using it to create an alluring flirtation with the world around you. It's subtle, it's a hint of something, it's the outline of the curves of the body, it's playing with the masculine and the feminine, it's an attitude, a head held high, a crossed leg, a sexy shoe, a tempting back, a wisp of curls, a dramatic eye, but above all else, it's you being confident and recognising the power you hold, loving your body, and wearing the clothes, and not letting the clothes wear you.
CASUAL CLASSY SEXY
Typically a day time look. Be a bit more reserved as these are looks you'd wear tooling around town, running errands, or meeting someone for lunch. Really limit the showcasing of your assets to one at a time. Don a sexy strappy shoe, showcase a flirty shoulder, cover up a bit more but with body con styles that hug your every curve.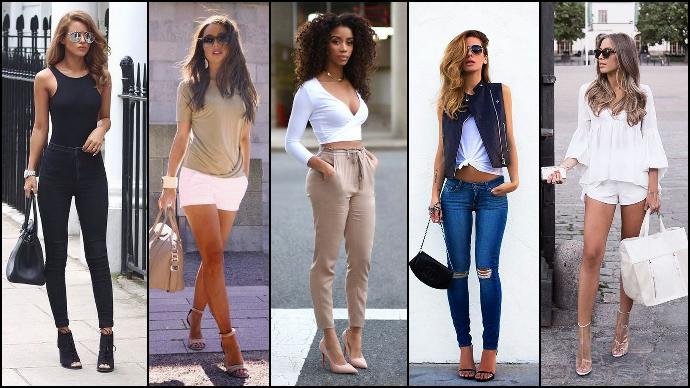 WORK CLASSY SEXY
This is your job mind you...One that probably has some form of dress code especially in business or professional settings. Going ultra sexy can cost you at a job where employers want you to be taken seriously and you represent the company and clothes often denote this. Focus on styles that are tailored well to your body, just a hint of lace somewhere, or a zipper that runs all the way down the back of your dress or skirt, play with the masculine lines of a suit with more feminine detailing like bows, or striking patterns, and no matter how stuffy your wardrobe has to be for work, you can always kill it with a super sexy shoe.
DATE NIGHT CLASSY SEXY
You don't have to turn into a stripper just because the sun has gone down, but you can be a bit more free then say the daytime casual or the work sexy looks. Show off a well toned back, perk up the girls in a low cut V, sky rocket those heels, dial your hair and make-up way up, go shorter, lacier, and racier, but still keep in mind, your goal is not to look cheap or hooker like. *Note, most of the women are fairly covered up, but just hinting at their sexiness via a body con outfit or sheer paneling or the long line of the leg, or a bit of lace, or a sliver of skin.
How Does One Accomplish Being Both Sexy and Classy?
1. Be confident in what you are wearing
The only real way to do this is if you genuinely love what you are wearing and you feel comfortable. If you are uncomfortable with wearing a revealing top for example, that feeling is not going to go away because you left the dressing room and walked outside in front of all your friends. If you can't wear a sexy high heel because you can't walk in them, unless you are dedicated to some practice, leave them at home and wear something you can walk in. You can be sexy and classy being completely covered up. You don't have to show everything off to be sexy. Also other people cannot talk you into being sexy. You have to feel that within and work your outfit alongside that.
2. Posture, posture, posture!
When you are all about that sex appeal, there is nothing sexy about looking like a hunch back all slouched over and crooked like. Stand up straight. Be the ballet dancer now, all limbs, and line of the arms and neck, and perfectly straight back, chest proud, head up. Glide across the room, cross your legs elegantly, lightly rest a chin upon your well-manicured hands and let a strand of hair fall over your face. Be the sexy in every aspect, but if you don't feel these things, don't fake them because it will only come across as you trying too hard or faking it!
3. Avoid cheap shiny thin shredded fabrics in your quest for sexidom
How shall I put this delicately...they make you look like a hooker's stripper mom. The words: "Lucite platform stilettos," "I can see your bra and panties," "I think I just saw your vagina," "or I got it online from a costume store," should NEVER and will NEVER be used to describe your classy sexiness! Never!
4. Show ONE or two body parts per outfit
I get it. You work out 7 days a week to look like you look or you were born with Salma Hayek curves, and the world thanks you. Congratulations, but being classy and sexy means holding back a little and letting your body of work still be able to shine, but not so brightly we need a censorship warning on you. I'll say it again, being confident with who you are reads very loudly in this world. You don't need to give it all away to the world to try and prove to yourself or someone else that you are so super sexy, look at me over here, you can see everything. You're better than that and people who do that often use this as a crutch for other things in their life that need fixing.
5. Eight rings of eye liner and 10 passes of mascara does not a smoky eye make
That's an active forest fire. Men in particular tend to like or appreciate a more natural look which means, tone it down to colors found in nature that enhance what you already have, not mutate you into Muppet level territory. You are not trying to create another human being, you should try to be the best you and your sexiness that you can be. That doesn't mean you shouldn't rock a smoky eye, it just means don't go so far you're in raccoon territory.