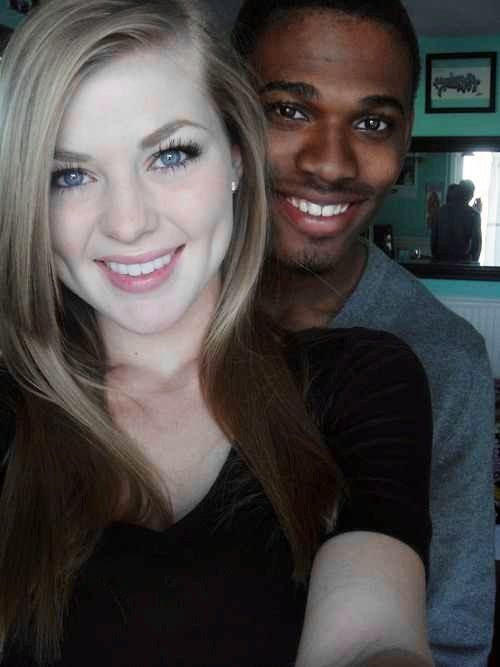 For the record, I know there are plenty of people who are okay with it, but there are others who really hate this, so I finally decided to say something about it, and I'm gonna try to be pretty level-headed here and not use insults but still tell it like it is. I really didn't realize hating relationships between black men and white women was such a big thing until I started seeing it more, and I even got hated myself for talking about it here last year. While there are some who say it doesn't matter to them, there are others who are boldly honest and bitter about why they hate it.

Black people like to date outside their race...
First off, it's a pretty common thing in the black community these days for a lot of us to prefer dating outside our race. Even more black women. And sometimes even our parents encourage us to. I'm cool with white women and like dating interracially, though most of the women I've gone after have been Latinas.
I used to be the type who didn't want to date my own because of the ghetto/loudmouth stereotypes, but that's not really a thing for me much anymore. I feel more of a friends/family relationship with black women than feeling romantic about them, and I've met plenty of black women who tell me they only like white guys or "Spanish boys." It doesn't bother me. I'm not offended if our women don't date us, because both us black men and women know how we feel. But it does offend me when people of other races are strongly against their own dating black and want to make up their minds without really getting to know us.

Denial...
I am amazed at the people on GaG - mostly males - who've tried to convince me that relationships between white women and black men is a rare thing. These people either aren't getting out enough, or where they live is far more white than black, or they need to pretend this is the case to feel better about it. Relationships between black males and white females is a pretty common thing in America, going on for centuries, regardless of whether you see it around you or not. Common enough that you find boatloads of stuff about it on Google and YouTube, and lots of pics of black men-white women couples. The proof is even in America's children. Probably the majority of our country's biracial kids are half black children who come from those relationships.
Even many of Hollywood's half black actors, actresses, and singers come from the same thing. Wentworth Miller, Mariah Carey, Haley Barry, Vin Diesel, Zendaya, and others. All of which have white mothers and black fathers. It's even speculated now that Kim Kardashian may actually be the daughter of O.J. Simpson like she always wondered.

White women who DON'T date black men…
As a black man I'm aware of the white women who don't like or want to date us. Believe me, we have experience meeting those types as well. They think most black men are thuggy, streetsy, violent, drug-dealing, and uneducated, and therefore have stereotyped us as unfit to date.
Usually for me I can look at a white woman and tell by the look on her face, the tone in her voice when she talks to you, little or no eye contact, and her body language that she's not into black men and doesn't want them talking to her; even if they don't want you to know that, though other times they're not entirely trying to hide it either. You can just figure it out, especially if you watch from a distance and observe how different she behaves with non-black men.
Some of them are completely fine with black women though, and have black female friends, but just dislike black men. They have one-sided bigotry. Dating sites is also where you find these women a lot, who are looking for specific perfect-looking 'toned and athletic' white males with celebrity looks or status. And the ironic thing is that often those women are overweight or not particularly attractive themselves, and they're on these sites because obviously not a lot of white guys want them back in real life either.

However, I have met and tried to date some white women online before who did admit they don't like dating black men sincerely because of a bad experience but that I "seemed different" though things never really went anywhere. I can maybe understand their apprehension after having already been with black men, but others who already make up their minds without never having really known us are still pretty much racist.

"It's just my preference"...
If you don't want black men, you don't want them, but I must say it's curious to me when white women who don't like us try to defend it as the tired, overused "preference" thing, yet think other white women who have a preference for us are "dating low," being stupid, or just being trendy. They want you to respect their "preference" is that they're not into us, but think negatively about women who are.

Not to mention, they - along with some white guys - want to call it a "race fetish"(the fashionable term nowadays) but they don't see it as a race fetish if they only like Hispanic guys, Asian, or even their own white men! Even more, some of them will find it annoying if black men like them because they're white, yet don't find it annoying when their own men like them because they're white, or when Asian and Hispanic guys do either for that matter. And probably the worst - which I still can't get my head around - is the white women who don't want black men, yet like dating white and Hispanic guys who talk black and try to dress and act hood, hip, and badass. So you don't like that in black men - who authored that style - but think it's cool in non-black men. Makes perfect sense.
So honestly, I don't have a lot of respect for those kinds of white women with all their defense of their "preference." But regardless, as black men we still move on, and know there are still enough other women who have relationships with us and aren't going to stop either, especially in these times.

Unfair hatred towards white women…
You have both situations where black men can be looked down on by their own people - usually women - for being in relationships with white women, and white women who are looked down on by their people as well for being with black. The latter is something I'm learning about more and more these days. I know plenty of white families have accepted a woman's black boyfriend/husband just fine, but there are still situations where some do not, and others where she would want to date a black man but knows her family wouldn't like it, or is afraid of her ex knowing too.

I've been surprised to learn that there really are white men who actually hate white women for dating or sleeping with black men, thinking they now have "diseases" or are trash for being with us, which is supposed to be an insult to not only her but a black man's character or integrity too. It's also not fair to view white women as "easy" for sleeping with black men either. Even violence has erupted from some white men for this. I remember a story on the news some time ago about a white man who went on a killing spree because he was so sick of white women going with black men, and killed himself.
It's for all these reasons that there are still some white women who are not as confident as others in being open about their interest in black men, sometimes even keeping their relationships a secret from their families. I've heard it said from some that more white women than we actually realize are attracted to black men and would be in relationships with them but do not feel free to because of some white families' and white men's racial distaste for that, even now in the 21st century.

Sex…
It is true that there remains to be a curiosity between some black men and white women about having sex with each other, and those who've already had it either love or hate the experience. I'm aware of white women who did it and didn't want to "go black" again and found it uncomfortable or not as good as they thought, but there are still enough of them who are into it. And, yes, liking 'big, black cock' is a common thing, and I don't really know what to say about it. Sometimes it offends me and other times it doesn't, depending on the circumstances. Though I don't really like how American and European women fly to the Caribbean just to sleep with black island men on summer vacation. It's a sex trade that's no better than businessmen going to Asia to sleep with Oriental women.
I have mixed feelings. I've met white girls online who didn't want to talk anymore and had their fantasies crushed once they found out I was black, and I've also met others who got excited and asked for a picture. Sometimes it has maybe alarmed me a little, and other times I'm alright with it. A few actually wanted dick picks and I was not comfortable with that. Some have even beat around the bush about looking for a black guy to invite into their bedroom with them and their boyfriend/husband which I really am not comfortable with lol. I've even had husbands show up in my inbox on a couple sites in the past saying stuff like, "My wife would love you," or "My wife has told me she's always wanted to fuck a black man, would you be interested?" Not cool with that, lol.
I personally do find intimacy between black men and white women to be very sexy, especially blowjobs and plain missionary. So I can't really scold it as objectification. It is what it is. And honestly? If the two people are sexually attracted to each other for these reasons, I don't have a problem with it. If white guys can be sexually attracted to Asian girls, and if white and Asian girls can only like white men because they are sexually attracted to them, why is it always a problem because there are white women who are aroused by black men and vice versa? Can't that be their "preference" too?

White women and black men aren't going to stop liking each other...
And that's just the fact of it. Regardless of what other white people might think about it - and even some blacks - it's not going to change. And it doesn't have to or need to. There's far too much interracialism in America now anyway for that to ever stop. Hell, I don't like the fact that a LOT of Asian women are only interested in white guys, but I can't change that, and I honestly don't care enough to try to slander them or have racial hatred towards them for it.
Some black women say they catch hell too for being with white men, which is true to an extent, but not the way white women and black men catch it. Black women aren't getting those really awful, ugly words that they'll give white guys AIDS for sleeping them, or that they're apes or rapists. Black women aren't being demonized for liking white guys, whereas black men can be accused of "putting white women on a pedestal" for liking them - by both black people and even some white women. And a white woman will still sleep with a white man who's had sex with black women, whereas there are white men who will reject a white woman for having slept with black men.
So while relationships between black men and white women can be hotly stylized, they can be hated just as much.
No doubt, even for me as a black man there are things I don't always like about black man-white woman relationships, like how some black men only want to date the really overweight white girls, and the white women who want to talk black just because they have a black man or are only interested in dating black men if they're thuggy and badass. But those don't make up all hot chocolate with marshmallow relationships. What these men and women do and how they like each other is between them. Even if they're only liking each other for the sex or objectifying each other, these two people are happy with that, and it's none of our damn business. And none of it is going to change just because there are people out there who don't like it or feel jealous that their own race is going after the other.

Simply...accept it.