Hey guys
Sketch here
I've noticed a trend of myTakes that talk about what the person in question finds attractive, essentially a festival of those who want to express their preferences on G@G.
If I was nominated, I don't remember by who. So if I wasn't, tough titties you won't read this anyways.
So since nobody cares about what I like in women, I'm gonna make a myTake about it regardless!
5 physical things I find attractive in women.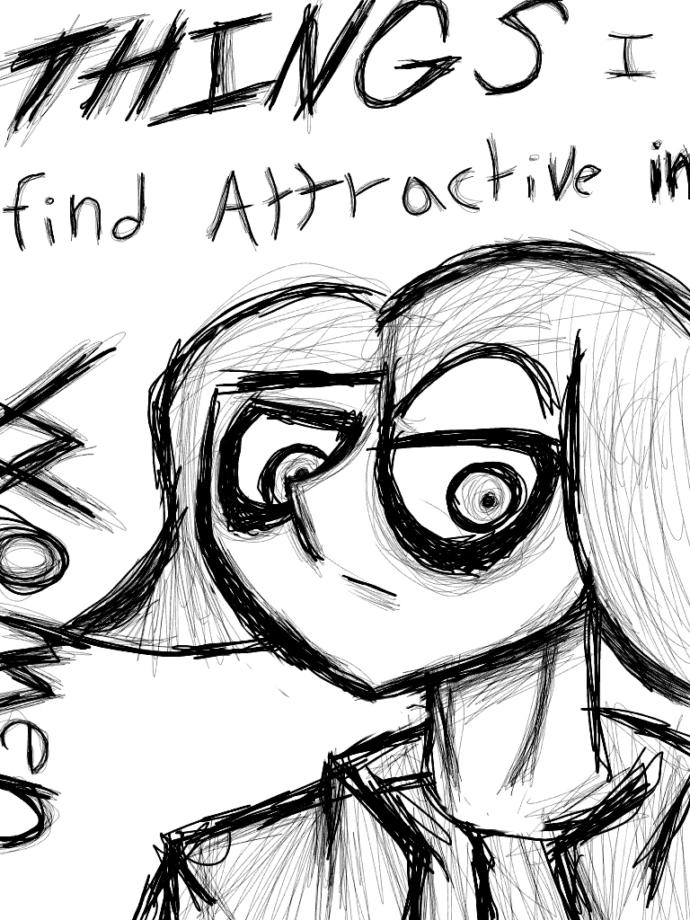 1.) Health
I personally don't care if you have curves or not, I just care if you're healthy. If they are conscious about their eating habits, and at least make an effort to stay healthy, then I do not have a problem with their body type.
Zeal for health and even the slightest improvement in performance of your body is nothing to be scoffed at.
___________________________________
2.) Their Smile
Call me cheesy, but the best curve that a woman can have on her body is a smile.
I'm not saying that you have to force a smile despite being sad, but a woman who shows that she's happy with a smile, shows she is confident, has a sense of humor, and I really like that.
___________________________________
3.) Short hair
I'm a sucker for girls with short hair sometimes, especially if it's short and brown/black.
I'm usually drawn in by it especially if it's a layered and done right, not the shit were people just shave their head, grow it out and call it a pixie cut.
I've seen some great short haircuts and it really speaks itself.
___________________________________
4.) Glasses
I'm just attracted to those framed panels of glass in front of people's eyes. I don't know why, nor do I care because they're a 100% turn on. (unless they're huge and circular)
___________________________________
5.) I'm a thigh man
Alright let's save the dirty subject for last.
I'm an ass man, I'm not really into tits that much, so sexually I'm not really allured by asses, but I certainly don't mind soft legs and wide hips.
Curvy healthy thighs get me going, but I feel that this doesn't really apply unless I know the gal in question.
Now that we're done with the things that don't matter to me, let's get on to the sexy part!
Gimme some of that sweet personality!
___________________________________
6 personality traits I find attractive in women.
___________________________________
1.) Eccentricity
I love girls that are eccentric, and not afraid to try new things. I always look up to girls that are able to feel so free. I've always held a leash on myself, but when I see a girl who knows what she wants, that's an immediate turn on for me.
___________________________________
2.) intelligence (all types)
I don't look up to girls who get straight A's , I see a girl I can actually have a fun conversation with. I see intelligent people as people who are observant, clever, and not easy to fool.
I've seen girls who've gotten straight A's, yet they fall for the most simple tricks in the book and act like it's the most unpredictable thing they've seen.
I find people who have seen it all very, very, very attractive.
___________________________________
3.) Interest in arts and media.
Look this ain't a requirement but it's definitely a plus.
I can't get enough of diving into the arts and improving upon expressing myself through pen and paper. Whether it be writing or drawing or even talking about it with another person.
Being a geek feels a lot better when you have someone to share that with, and those interests align with mine, so they're a huge plus.
___________________________________
4.) Strength.
Resolve and absolve in the most stressful situations. Combating demons that want to tear them down. Finding satisfaction in the fact that they've made it to where they are.
Never expecting anything of anyone, yet respecting nonetheless.
Those attributes require strength, and that's what I love to see in someone else.
___________________________________
5.) Sense of humor
Some people are able to just look at hardships and struggles and find humor in it, if you're that type of girl I think we'll get along just fine.
I've been with girls who just don't find humor in anything, and they just bring down everything whether it be in an arrogant or cynical way.
I'm exactly like that so I'm not one to talk, but it's definitely not attractive.
If you can make me genuinely laugh, you are definitely a check mark, and I find you attractive as fuck.
___________________________________
6.) Empathy.
Look I've dated people that check all the boxes above... But sometimes... The one thing that they lack is right here...
They could look at homeless people and scoff, they could spill a drink and expect someone else to clean it up, they could look down on someone else, and justify it through their own status.
Being able to look past and understand others is a quality I've seen both grow and shrink over the years.
An actually empathetic person is hard to come by, especially when people tend to have this inflated sense of worth.
If you have the ability to look at someone in say... A YouTube video, and watch their parents hit him for dropping a frying pan on a glass, and say " aw poor kid" instead of "what an idiot brat", you have a good soul, and that's what matters to me the most.
Seeing someone who's actually empathetic, is really, really, really attractive to me.
___________________________________
Alright that's enough from me, I'm gonna nominate a couple people and be on my way.
@CherryRoseChampange
@Bigthicc
@RandomMan
___________________________________
Have a nice day
---