I've written several MyTakes about my country Norway; all from food to detonations, culture, stereotypes, jokes, history and my own opinions on my own country. So this time I wants to tell you about a tradition that you may have never heard about before and that only exists in Norway; russefeiring.
What's russefeiring?

It gets celebrated by people who has graduated high school and been in school usually for 13 or 14 years. It's different than having a school prom that only lasts an evening. Russefeiring lasts ca. a month from 26th April to 17th May. It has changed a lot through the centuries. Today it consists of a lot of partying, wearing special clothing and doing activities with your friends. The partying takes place before the exam and the graduating pupils would be called "russ".
How it started:

The first form of graduation celebration started in the 18th century when Norwegians who wanted to study traveled to Denmark. At that time Norway was part of Denmark. The students wore horns on their forehead and the older ones could tease them. If they did it well on the exam they could remove the horns that symbolized them getting wiser and tamer. The horn symbolized wildness and being immature. "Russ" is the abbreviation of the Latin sentence "cornua depositurus" which means "removing the horns". The celebration continued developing till now.
Clothings: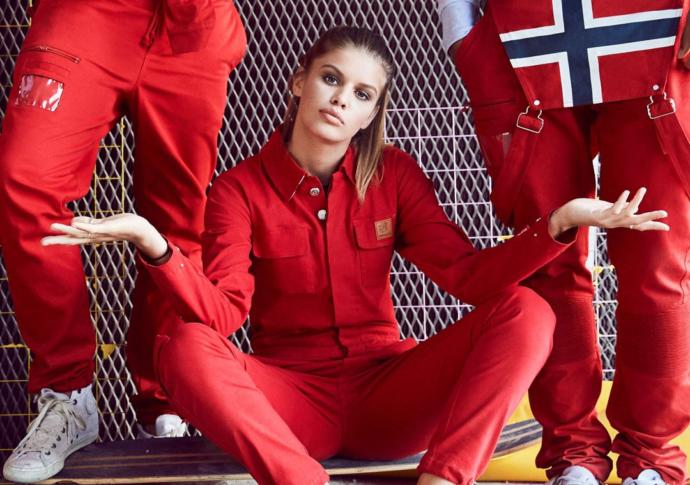 The easiest way to spot a "russ"; a pupil who's going to graduate is the clothing. They traditionally wears different colored overalls or boilersuits. Originally each colors had a specific meaning, but nowadays everyone wears the color they likes best without caring about the meaning. Red originally meant people who went to regular high schools with different kinds of subjects like history, science, languages, math etc., while those ones who wore blue studied specifically economics. Green was the farmers' color, black the artisans color and so on. The russ can decorate their clothing with patches and write on them. In addition they've a lot of pockets so they can carry their cards and phones around. Many also owns a russe hat, but rarely wears it.
Cards:

The russ can order cards in shops where they can write jokes on them and have a funny picture of themselves. The jokes may be puns, inside jokes or dirty humor for example. Ironically it's usually children in elementary and middle school who wants these cards for their collections although they've a lot of adult humor in it. It's not often people who are russ that collects them. Children rarely understands them since it's sometimes written in English and worded in a way, so only adults can understand them.

Partying:

The most common way to celebrate the graduation is to partying a lot. It's common to either rent a big room privately, visit each others homes or go outside to do it. Many also goes to pubs, night clubs and similar. There's a lot of alcohol, hanging out with friends, flirting and even hooking. People who watch the TV-series Skam may think there's just false stereotypes that are shown, but if you've been russ you would realize all of the hook up and drinking culture are real. It's as common as it's shown in the fictional show. Hooking consists mostly of kissing and touching. It doesn't end as often up as real sex.

There's also a lot of other arrangements during the celebration. It can be festivals, proms, baptizing and going to amusement parks. When a russ gets baptized by a russ priest they will get a nickname a friend of them has decided and get challenged to chug alcohol or water as fast as possible. The amount they don't manage to drink within the time limit gets thrown at them.
Knuter:

During the celebration it's also possible to do challenges and sometimes the winner who has done most of them may get rewarded. Each schools have a group that decide which challenges it's allowed to do each year, what attempts counts and who wins. Each time you successfully do a challenge you can make a knot on the long rope attached to your hat and even tie things on it. Challenges can be done in school, at home and on parties. Some challenges have been removed because they were illegal like stripping in public and disturbing the traffic.

Examples on challenges can be participating in a charity, drinking as many beers as possible, staying awake for 24 hours, flirting with your teacher and so on. Many of the challenges are either alcohol or sex related. A sex challenge may be having sex outdoor, having anal sex and having sex with as many people as possible.

You can prove to other russ that you've done them with either having a lot of other russe witnesses, taking pictures or filming it. Most russe-leaders are lenient and will believe you if you says you've accomplished something without evidence.

Terror days:

It's not uncommon for the russ to tease younger pupils in high school either. They can chase them with water guns or water balloons and throw water at them in school time. It's only allowed to do it outside and there's rules about how much water they're allowed to throw. Too wet pupils aren't allowed to stay in school. It's the russ who gets the title "terror boss" who leads all the teasing and decides when the other russ can throw water. S/he is elected by pupils on the school like the other leaders in the russe group.

Buses: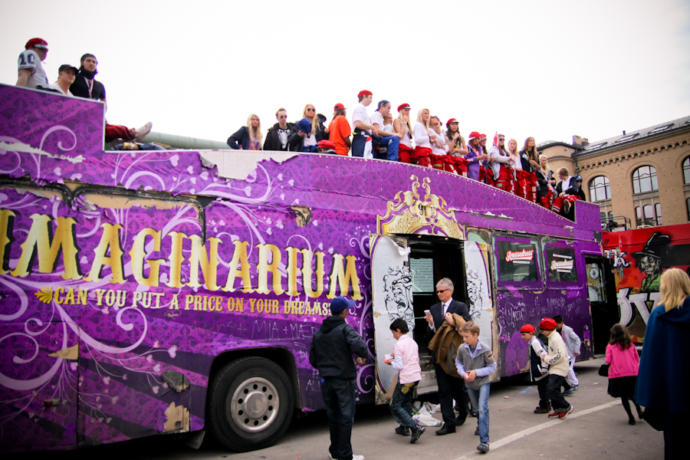 The celebration can sometimes get incredible expensive. The russ who use the least amount of money usually spends 230$ (Ca. 2000 NOK), while these ones who spends most may spend up to 11 500$ (Ca. 100 000 NOK). The average russ in 2016 spent 2 300$ (Ca. 20 000 NOK) on the celebration according to the bank DNB.

The bills are split between friends in the groups. A groups have usually between 10 to 20 members in them although there exists smaller groups with only five members. The group members are traditionally all of the same gender. The cars, vans and buses gets decorated on both the inside and the outside. The inside has a stereo, some sofas, colored lightning and are supposed to look like an limousine inside. Having shelves where you can store your bottles are usual too, but most buses have very few windows. Both the outside of the bus and the russ' clothing are decorated with a logo that's designed by professional artists that gets paid a lot. Some even pays artists a huge amount of money to make a song for them. Both the logos and songs are often about sex, drinking, partying and sexy women.

There's a big competitions between the groups on who've the best decorated buses, coolest logos, group names and songs. These ones who paid the best artists gets a lot of respect by the russ community. People are also partying inside the buses when it's driving. They're drinking, singing and joking. If all the friends in the group wants to party at the same time, they may rent a professional driver or ask a family member to drive them.

Example on group names are haunted, taco boys, doubtless and danger.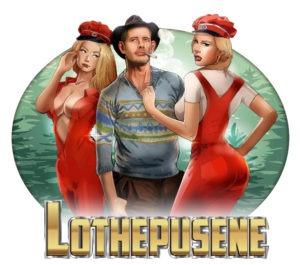 "Rulling" is when people are partying while someone is driving the bus.

Criticism:

Russefeiring has received a lot of criticism. It gets often criticized for encouraging young people to drink a lot, have much casual sex, being unsafe and expensive. A lot of car accidents and rape cases happens during the celebration because of alcohol and people doing what they wants to. Some people thinks they can do what they wants to when they're russ since it's known for being a celebration where the youth are testing the limits and wants to have fun after ca. 13 years in school.
Some people prefer doing kind things like participating in charity, giving ice cream to children etc. during the celebration instead.
They thinks having fun is important before getting serious again and working hard 10 more years in either college or the university. The songs have been criticized a lot too for the plot. Some songs are about sex with minors, partying and whores. Because of all the criticism some people choose to stay sober through the whole celebrations. Usually it's religious people; Christians, Muslims and Jews that choose being sober. They also focus more on charity than sex challenges.

There's also people out there who enjoys the tradition because they don't have to follow the same expectations on being an obedient youth and during the celebration partying are seen as more socially accepted than usually. In the latest years the police and the russ are cooperating more to make it safer. Not everyone are agree in the criticism and think the older generations are generalizing the russ too much. They thinks that there would always be some people who ruins for everyone else and misbehaves, but that doesn't mean everyone does and that there's many nice people out there too.

Would you like having this tradition in your country?

#Norway #Tradition