Enjoy an escape now from your present world and journey into a time where Goddesses have reigned supreme in historical folklore as far back as 7,000 BC, and some historians have said maybe as far back as 30,000 BC.
Without exception, planet earth's heavenly deities have flourished in every culture during every period of history.
THIS IS IMPORTANT! ...before you do anything else, click on this Tantric Sex Subliminal Music Video, where the Gods themselves enjoy the passions and pleasures of the Goddess Aphrodite, and let it play while you scroll down through this Golden Goddess of Sacred Sexual Divinity myTake ...a lower volume is preferred.
This will take you to places you have never been ...on a journey back in time ...to a place of unbridled erotic love, passions and pleasures, the likes of which you may have only dreamt of! ...I PROMISE! ...now click and scroll
And along with these diva's of divinity, beauty and enchantment come their myths, legends and stories, of which we are about to embark on and experience in abundance, with the shared essence of some of the greatest sexual pleasures, erotica and lustful indulgences only The True Spirit of Sacred Sexuality could ever even possibly manifest.
Goddesses have not only helped us understand how the worlds came into being, but are responsible for the legends regarding the creation of life itself and have helped many mortal earthlings endure intense hardships by their believe in, and worship of, these Goddesses of greatness.
As we study the archetype of Goddesses throughout history we find many strong themes of, not only love, but the role of femininity in sacred sex, erotica and the unabashed true lusts of the flesh that have flourished in the hearts of humanity since the dawn of time.
"In healing post patriarchal and Christian suppression of women and their sexuality, I turn to a world that existed before both, and call the sleeping goddesses of the past into the present to once again tell their stories and share their myths. It is in these archetypes that have always existed, that women can once again find a way to heal their sexuality, whether that be through exploring the shadow or remembering lifetimes when they mediated as sacred sexual priestesses.Whilst these goddess' stories are immense, it is my hope that these short versions will inspire you to seek them out and invite them back into your own life where as you unravel their myths, they help you to heal your own." ~The Goddess of Sacred Sex
APHRODITE
While Aphrodite, the Goddess of Love and Beauty, said to be the most beautiful among all Goddesses, was generally known to be associated with romantic love, her broad appeal to most also encompassed wild, intensely vivid and lurid sexual pleasures.
The Temple at Corinthian
In the Classical Age, the Temple built for Aphrodite on the summit of Corinthian, is said to have housed over 1,000 sacred Lady's of the Night lavishing themselves upon the ship faring sailors, and others, who would frequent the city below.
The libertine atmosphere of the Temple "Corinth" became synonymous for immorality of the highest order, using the Goddess herself as an brazen excuse for such unbridled lasciviousness.
A thousand steps to the top of the awe inspiring Acrocorinth crag of monolithic rock was not enough to deter the sailors from their ascent to the stunning 360-degree vistas where they witnessed the awe inspiring effervescent views of the Mediterranean.
For it was there among the Marble columns of the Temple of Aphrodite, the Goddess of Beauty and Love, within the confines of candlelit, incense-filled surroundings that housed over 1,000 comely harlots, where the sailors would now share their long harbored passions ready to burst in wanton release with these licentious ladies of pleasure.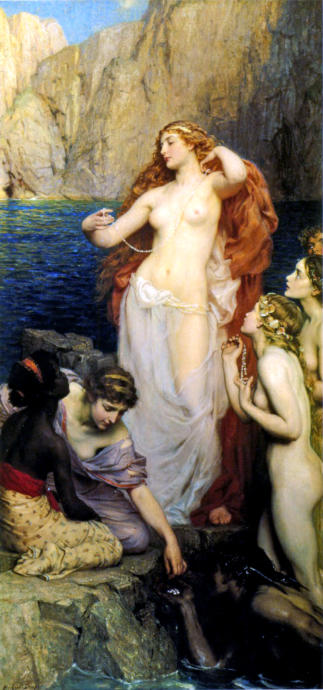 The Transformative Power of Sexuality
Aphrodite represents the "cosmic life force, associated especially with the transformative power of sexuality." This power evidently has its cruel side and Greek mythology often associates Aphrodite "not with human love in general, but with its darker side: rape, adultery, and incest." Many voices don't like to discuss the dark side of the Goddess, but each goddess (like ourselves) carries aspects of the dark as well as the light and as a cosmic force for transformation through sexuality, the shadow aspects must be experienced as well as the light. To most though, Aphrodite's unbridled sexuality means lofty ideals such as liberation and renewal, energy and empowerment, ecstasy and oneness, both with others and with the divine. ~The Goddess of Sacred Sex
"Aphrodite's rituals of love and pleasure are the acts which connect the inner and outer planes … we must actually dance, sing, feast, make music, and love in Her honor. It is with our bodies that we worship Her, and through our bodies that She blesses us. By these earthy rituals the false divisions between body and spirit, between mind and nature, are healed. We find the Sacred within us and all things, within our beautiful, living Mother Earth." -Judy Harrow in Gnosis
The Transformative Powers of Sexuality that embody the Goddess Aphrodite, temples filled with the alluring ladies of pure sexual being, temptation and unbridled passion, can be called upon to even shape shift ladies desiring a more intense sexual experience into the sexual goddess you were meant to be, or for the men that can now become the purveyors of pure indulgence manifesting the sexual prowess you have always had within you.
If you enjoyed this myTake, and Goddess admirers do truly still exist, I may submit my next Chapter featuring the, one and only, Elite Sensual Goddess, who actually inspired the Goddess Aphrodite and was highly known and famous for her celebration, and sacred worship, of the vulva! ...no, I'M NOT KIDDING! ...lol
Remember to click on the "UP VOTE" below if you liked this myTake ...PLEASE?