Here's a sh*t load of thrills, chills, and horror-comedies. Let me know if you've seen or are interested in seeing any of these films. Not all are Halloween or Christmas-themed but you should still check em out. Plus, I wanted to name some forgotten films or just something less common then the usual Michael, Freddy, Jason, and Chucky.
1. Dont Breathe
This old man may have been blind but he had an extreme sense of self defense. It basically makes the teens trying to rob this ex-militant look like the three blind mice; Expect a little BDSM, a fair amount of bloodshed, a reminiscing scene from Cujo, that one guy who never dies (love you boo) and a mouth full of cum-um-um.
2. Dr. Giggles
Dude literally sh*ts giggles. He basically breaks out the nuthouse to continue the murders his father practiced on patients. He targets a Charmed One and it just sucks that her cheatin azz boyfriend and the cops aren't as helpful as her sisters Prue/Phoebe/Paige wouldve been. Expect a bunch of bloodshed and a whole lotta laughter.
3. The Frighteners
Michael J Fox and his ghostly friends hunt down the evil spawn of Gary Busey who has murdered a whole hospital of people and continues to do so even in his after life. Expect laughter and a few jump scares.
4. Tucker & Dale VS Evil
This is like someone took the ending of Cabin in the Woods but stretched it out the whole movie; So this movie has no killers... initially. Just Basically a bunch of teens who think theyre being picked off by two "hillbillies", when in reality, the real killer may be amongst the group of friends.
5. Nobody Lives
Gaston goes batsh*t crazy like he's the next Joe Goldberg. Its a weird storyline and an even weirder ending. Expect lots of bloodshed, fake tits and another guy who just won't die.
6. Tamara
Channing Tatum's ex wife goes all psycho Carrie when she returns from the dead to pick off all those who bullied her in high school. Expect a hottie and a few dead bodies
7. The Hitcher 2007
In this game of cat and mouse, a hitchhiker turns on those who give him a lift. He makes one couple into his little puppets, but they end up being targeted by the police who thinks that they're the murderers. Expect a great soundtrack, a gta police chase, and a lot of spilled guts. (Checkout the scene below with the background song Nine Inch Nails "I Want to Fck You Like an Animal".
8. Pet Sematary Two
In this Stephen King sequel, the good continue to die young, only to be revived and brought back evil. Young John Connor is on the run from his friends zombie stepdad and its too bad the Terminator isn't there to protect him. Expect to pity the foo and laugh at em too.
9. Fear
Mark Wahlberg's character is mad obsessed with a Reese's Pieces and is willing to kill anyone who stops him from devouring her. Expect a freakshow on the fairgrounds and a psycho in the city.
10. House of Wax
This wax version of leatherface wasn't as scary but he and his crazy bro chase down several hotties— Chad Michael Murray, Jared Padalecki, Robert Richard, and Paris Hilton. Expect bloodshed, faces falling off, hotties that melt, fingers being chopped off, and a not so dumb blonde.
11. The Good Son
Battle of the child actors Elijah wood amd Macauley Culkin go at it for mommy's attention. I think Culkin was just mad he wasn't "home alone" because he totally tries to off his family in this one. Expect a killer kid and lots of jealousy.
12. Urban Legend
Teens are being murdered on campus and people are starting to suspect the joker Jared Leto. Expect lots of bloodshed, a black person who finally doesn't die first, a lex luthor WITH hair, and a dumb blonde.
13. The Covenant
So many hotties, but not enough dead bodies because almost all of the cast has superpowers. You got Bucky Barnes battling the warlock's version of the Avengers—Warren Peace, Gambit, and The Deep. Expect a little magic from hot, hawt, and hotter...
14. Hollow Man
Kevin bacon in his usual act as a douche bag, but this time an invisible douche who tries to kill off the labrats. Expect a science experiment gone wrong and a bunch of unnecessary tit scenes.
15. Eden Lake
Not the best, not the worst, simply decent ending as young Magneto and his wife are terrorized by a group of teens. Expect lots of bloodshed and a few British accents.
16. Joy Ride
Paul Walker is on the run as usual but this time from a killer truck driver who he decided to toy with on the CB radio. Expect a naked Paul and some bones that are gonna breaker, breaker.
17. The Last House on the Left
This remake finds Aquamarine swimming for her life after being beaten and raped by murderers on the run. Who better to save the day than that cheating azz President Fitz. What a Scandal this will be! Dont expect to see a dude's ding dong to get bit off like in the original film.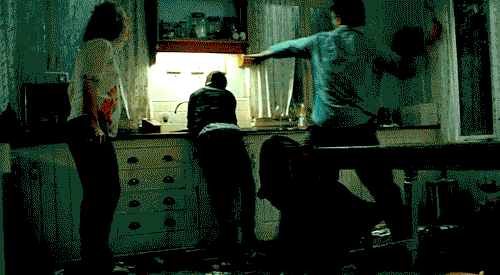 18. My Bloody Valentine 3D
Jensen Ackles gets supernatural once again in this remake as he and his friends are on the run from a masked miner. Expect lots of blood in 3D style and a supposedly haunted mine.
19. Valentine
Lots of hotties are tormented by the young man they used to bully; Its like if Tamara was a man and wore a mask. Expect lots of bloody hearts on Valentines day and a makeover you didn't see coming.
20. The Purge Anarchy
Crossbones has escaped the Avengers and is back to kickass as an antihero. He's here to protect a few town residents from being skinned alive. Expect more and more masked killers.
21. Santas Slay
Bill Goldberg turns into a big badazz "Satan" Claus as he tries to capture two teens for Christmas. Expect the death of an annoying fran the nanny and a whole brothel of naked hohohoes.
22. You're Next
A family reunion goes horribly wrong as masked killers show up, only to be picked off by an even crazier houseguest. Expect a total badass and an inheritance at stake.
23. Better Watch Out 2017
Another great Christmas story but with a twist as a teen tries to shoot everyone but himself. Expect someone to pull some "Home Alone" stunts as they go to great lengths to get the babysitter's attention.
24. Intruders 2015
Macauley Culkins little brother plots to rob an antisocial homebody, but little does he know how she's more of a traumatized sociopath. Expect to see the attacker be attacked by the attackee.
25. Mama
I totally couldn't sleep alone after watching this lol. It was almost as bad as the first Conjuring. Two little orphans are adopted but also bring home the spirit of a mother who has already lost one child and refuses to lose two more. Expect to jump, scream and not be able to sleep.
26. Ghost Ship
Ask yourself, is stealing gold from ghosts really worth it? Expect to die along with the crew.
27. Thirteen Ghosts
Shaggy is back with a new Scooby gang as he teams up with Detective Monk to fight off some killer ghosts. This really got to me as a kid, I won't lie. Expect the unexpected.
28. Urban Legends: Bloody Mary
The title says it all. It was oddly freaky. Expect exactly whats expected.
29. The Faculty
I can't get enough of this movie. I've watched it so many times since childhood. Plus I oddly found Elijah Wood hawt in this. This is more of Whodunit but it has it all... hot aliens, hot teachers, people sniffing coke, parasite infested bodies, and even Usher as a quarterback lol.
30. Slither
Speaking of parasites, this one was filled with em. Its one of my fave horror comedies but is gross af. Expect big slugs and an even bigger nasty parasitical orgy party.
31. Ready or Not
I can't stop mentioning this film. It was the absolute best thing ever 🤷‍♀️ You know you've married into the wrong family when people are willing to kill for money. It doesn't start off strong but the ending is well put. Expect gore, sacrificial goat-like screams and some funny azz cussing (as seen in the scene below).