Amongst Americans specifically have a belief that condoms are simply one-size-fits-all. After all you've probably seen a number of feet being wrapped by "normal" sized condoms to showcase how elastic condoms are. But what about constriction? As a penis owning person, I have to wonder how does a condom being put around bones and skeletal muscle have any relevance to a boneless dick.
These irrelevant testing doesn't matter but the message that you should be wearing a condom for every new partners is worthy. I have read a myTake here called "How to buy condoms!" and was appalled at how PATHETIC it was and how clueless people really are to condoms. Perhaps you'll call me overly obsessed.. But I hope you'll find valuable information in myTake so that you too can proudly correct your foolish friends and family and address baseless misconceptions. :)
What makes a condom different from another condom:
1. Length
2. Nominal width
3. Material
4. Material thickness
5. Lubricant
6. Additional features
1. Length is typically not a problem. If you've used a condom you know unused length is kept rolled up. FDA requires a minimum condom length of 6.3" but most brands make them around 7~8" and very few are below 7.5". Only the "snugger" fit variants are below 7.5. On the other spectrum "XL" fits are around 8" with the Durex XXL largest in at 8.5". But be surprised, or not, it's not the longest available condom.
2. Nominal width is the MOST IMPORTANT variable when it comes to condoms. It will determine the comfort and ultimately the sexual experience. It will determine whether or not a breakage/slippage occurs. Nominal width is the condom's diameter across when fully rolled up in millimeters (HUH? we just used inches for length?).
Lets begin with FDA's specification for maximum width which is.. 54mm. Manufactures state a different number and I'm not going to purchase these condoms for myself to measure.
I couldn't tell you how it translates to penis girth, so here's a chart by a redditer "hungfun"..
You'll need to know your (or his) girth to see what nominal width is recommended. If you don't have a tape measure, then take a piece of string or anything flexible and wrap it around the shaft. Indicate on the string where the end intersects. Measure the distance from end to the indicated mark and you have your girth measurement.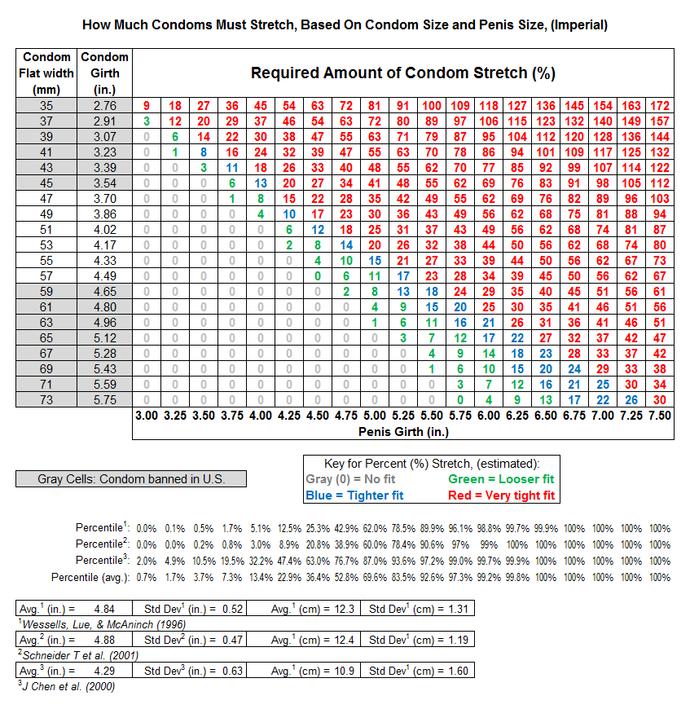 You may have noticed on the chart the gray cells with "condom banned in US". More on this...Later.
The distinction between the American market sizes generally follows this.
"Snug" - 49-50mm
"Normal" - 52-54mm
"Large" - 54-56mm
"XL" - 54-56mm base | taper up to 65mm at reservoir end.
The few milimeters does actually makes that much difference to the user's comfort and the stretch that contributes to condom breakage.
Forgive me as I only have anecdotal evidence from my own experience, trial and error. I could speculate and say that the increase in stretch reduces material thickness thus lowering its strength to maintain integrity. Additionally, that the increased stretch reduces the amount of provided lubricant per square area.
Problems arise when condoms are either too narrow or too wide. Narrow condoms will be difficult to roll-over, discomfort, and will sometimes choke a penis flaccid. Ever seen the red ring around a shaft after using a condom too small? Wide condoms may come off during intercourse...potentially inside the vagina yikes! So if you "Bros" share condoms be aware of the risks, it could just ruin a friendship. (Though not much of an issue in the United States)
3. Material would most likely be a concern for those with Latex allergy but different materials do have other characteristics.
Latex condoms are the most available, very elastic but will be ruined when contacted by oils such as Vaseline/skin lotions.
Polyisoprene is a non-latex but latex-based condom that has less of the allergens than of the latex condom. Example: Lifestyle Skyn
Polyurethane is apparently used in ultra-thin condoms. I've had no experience with these but reportedly it transmits body heat better than latex but sacrifices some elasticity. Example: Trojan Supra
Lambskin will prevent pregnancy but does not protect against STDs. Example: Trojan Natural Lamb
4. Thickness isn't something I've concerned too much about..
The range goes from 0.100" to 0.040" thickness. A typical hair is 0.004". Kimono brand is known for being thinner.
5. Lubricant types vary by manufacture. Most will use water based lubricant and a few others silicone based. Disadvantage of water based lubes is that it dries rather quickly and the water may be absorbed into the body. Potentially leaving a sticky solution of bodily fluid and dried lubricant. Silicone lubes doesn't dry out as quickly and does not get absorbed into the body. It should be noted not to use silicone lubes on silicone toys as it may cause disintegration.
Also varying by manufacture is the amount of lubricant externally as well as internally. Again forgive me, only anecdotal evidence. A tip for a better experience with condom is to apply a bit more lubricant both internally and externally.
A noticeable difference between the brands is how much taste and smell of latex is present. Whether or not this is because of the lubricant, I can't say.
I'd also argue that thrusting 'dry' can tear the condom just as easily as a poor fit.
6. Features on condoms can vary. Most condoms of these variety are only within FDA's limits.
Spermicides, it's a cream mixed in with the lubricant to kill sperm. Some may find irritation from this.
Hot and cold, also a cream mixed with the lubricant. Additionally, some may suffer irritation. I've heard more complaints than positive.
Ribbed, a couple's preference. I can't say I've heard of any couples that prefer ribbed over standard.
---
The limited American sizes…
Can I just leave it with "A picture is a thousand words"? The Durex XXL (right) is 58mm and the mySize (left) is 69mm.
It's sad that America prefers to leave customers in the blank and ignorance to what's being wrapped around the man's cock. Where marketing in the US is either "normal" or "XL", across the Atlantic you'll find a printable ruler to check for one's best fit.
Anyways, there are two manufactures that I'm aware of that make actual XL condoms.
mySize and theyFit.
mySize has a positively correlating length to nominal widths of 47mm to 69mm. So the wider the condom the longer. Only 7 different condom sizes to choose from.
theyFit has a very wide variety with lengths 80mm to 240mm (3" to 9.5") and width of 41mm to 69mm. You can pick one (from the 95 combination of sizes) that fits the penis' length and girth the absolute best.
The disadvantage is that you have to order from a forwarding service as the manufactures cannot ship directly to a customer in the United States. However there is a seller on Amazon doing forwarding services of mySize condoms.
---
In conclusion…
The most important factor to purchasing a condom for yourself or partner is the nominal width.
For most penis' what is sold in the United States will be adequate. It's the ones at the larger and smaller girth that have no safe and viable options.
More endowed penises can definitely still fit into an American XL (56mm with taper up to 64mm) but that runs the risk of tearing and breakage. At a girth of 5.5" and above one will notice a difference using one that fits properly.
And the less endowed run risk of the condom slipping off, it's dangerous and a health risk.
There are no excuses for a guy to not wear a condom if the partner requests it. If it's too small/large, go get a better fit. If American condoms are too small/large..now you know where to ones that fit. No doubt it reduces sensation but that's the trade-off for safety. Additional lubricant inside and outside can help.
For the woman purchasing condoms to be prepared, a couple "normal sized" and "XL" condoms is enough to cover the wide range of penises. If you need to determine which condom to use on a guy, know the circumfrence of your 'ok-grip' (pointing finger touching end of thumb to form a ring).
Condom stretch charts - https://imgur.com/a/3r5sH/