Do you think the invasion and advancement of technology which is very visual and nowadays showcases the physicality more than intellectual or Innocence?
What do you think of days now vs then?
What difference do you find with respect to invasion of technology and its ease of access to it kids growing up soon and acting like adults and evn involvement in adultery?
Whats the difference you find and how you view it positives and negatives both are welcome?
PS : PICS Courtesy Internet.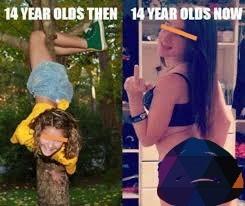 Updates: