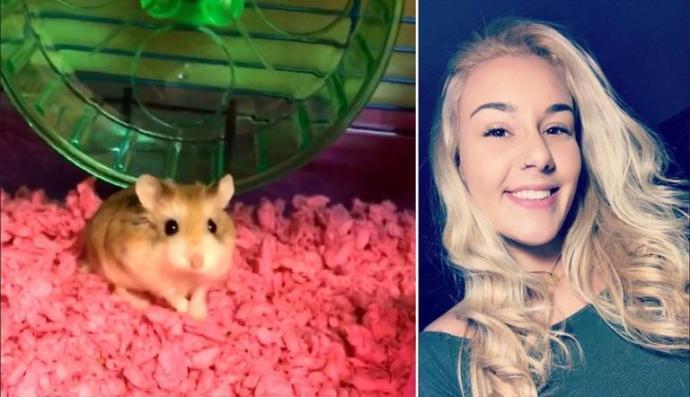 Belen Aldecosea, a student in Texas, called Spirit Airlines twice and was told both times that she could bring her certified emotional support animal, Pebbles the hamster, on board a flight to Florida.
When she arrived, she was confronted by staff who told her rodents were not allowed. Spirit has admitted that representatives did give false information to Aldecosea.
"... She says an airline representative suggested flushing Pebbles down an airport toilet, a step that Spirit denies... Panicked and needing to return home promptly to deal with a medical issue, For hours, Aldecosea said, she struggled with what to do.
She contacted at least six rental car agencies, but no cars were available during the busy holiday season and she wasn't old enough to rent a car anyway. A Greyhound bus would have taken days to get to South Florida.
With her flight boarding soon, she pondered whether to just let Pebbles free outside. She said she considered it more humane to end her life right away, and not let her run around scared in the cold, only to die getting hit by a car.
"I didn't have any other options," she said.
"Aldecosea... agonized for hours before doing the unthinkable... She was scared. I was scared. It was horrifying trying to put her in the toilet," Aldecosea said. "I was emotional. I was crying. I sat there for a good 10 minutes crying in the stall
She flushed Pebbles."
"Aldecosea, 21, of Miami Beach, is now considering filing a lawsuit against Spirit over the conflicting instructions that wound up pressuring her into making an anguished decision with a pet certified by her doctor as an emotional support animal."
http://www.miamiherald.com/news/local/community/miami-dade/article198971069.html
What are your thoughts?
Select age and gender to cast your vote:
Updates:
+1 y
So update: Spirit Airline statement
"Our reservation representative, unfortunately, did misinform the Guest that a hamster was permitted to fly as an emotional support animal on Spirit Airlines," the spokesperson told the paper. "Rodents of any kind are not allowed on board for health and safety reasons."

"We did offer the Guest a voucher for the inconvenience, but we never heard back from her," the spokesperson added."