... I am still in shock. I still wish this is not true. Sridevi Kapoor is dead. How come?

Is it so easy to die? Cardiac arrest, really?
My love is dead I still can't believe it.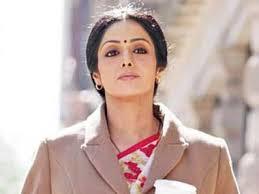 I'm not an 80's kid or 90's kid, those were the times when she was younger and most famous. I am not her fan for decades, I did not watch her old movies not even Mr. India. I did not know about her until I watched the movie English Vinglish soon after it was released, I was 11 or 12, and the first thought I had when I knew nothing about her was, 'Do such beautiful people even exist? Is she for real?' Ageless beauty, love at first sight. 😭

I can't even imagine what her fans from the 80's and 90's are going through. I can't relate with the shock that her biggest and oldest fans have gotten after getting this news. All I know is that I haven't absorbed the shock of her death yet.

The world is so unfair 😭😭😭😭 rest in peace my love 💔
Updates:
1) I am not from India.
2) If you don't know who she is then you can at least tell from the description that she's an actress. If you are a genius then you should also understand that she's a Bollywood actress. Even if you don't, you can easily search on Google who she is. If you're not interested in knowing then this question isn't for you and you don't have to post an opinion here.
---
Most Helpful Guy
My condolences are with her family. But this is a classic case of what the media portrays of a person. No doubt she was an absolute legend in her sphere of work, but do you know anything about her real life?
I am no-one to judge but can you imagine the amount of pain she might have inflicted on Mona Kapoor?
It hurts me to say, but when Mona Kapoor who passed away in 2012 not many people poured their hearts out the way they are pouring their hearts out now!
I respect her (Sridevi) as an actress, but as a person I may have different thoughts.

2

THIS IS NOT RELEVANT ANYMORE
Most Helpful Girl